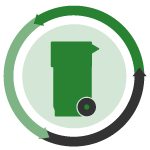 A newspaper publishes photos showing glaring cases of contamination, and the head of a beverage association makes the case for removing certain containers from Maine's deposit program.
Required offering: Orlando, Fla. city officials are considering a policy that would require all office and multi-family buildings to make recycling collection available to tenants. The Orlando Sentinel reports that the proposal is still a long way from adoption.
Deposit debate: Maine legislators in March voted down a proposal to remove larger containers from the state's bottle deposit program, but the bottle bill debate isn't over. In an op-ed for the Bangor Daily News, the executive director of the Maine Beverage Association lays out the rationale for the proposal and takes the newspaper to task for opposing the legislation.
Costly contamination: A Pennsylvania borough is cracking down on illegal dumping at its recycling collection center. According to the Times-Leader newspaper, the West Wyoming borough council has ordered more police presence at the center and is specifically targeting dumpers who are abusing the service meant for local residents.
Worth a thousand words: The Des Moines Register shows its readers exactly how bad some residents are at recycling, highlighting six glaring examples of contamination in curbside carts. Among the materials jammed in the single-stream carts are a bike, scrap metal, a wooden bookshelf and an electric fan.
Word from the wise: In advance of President Trump's executive action on sustainability, former federal environmental executives and chief sustainability officers who served under the previous three presidents penned a letter to Trump's administration. The letter suggests methods the president can adopt to continue work toward sustainability while cutting costs.
App assistance: The online marketplace Etsy is tracking the waste generated at its offices to get a clearer idea of how much is generated and where it goes. According to GreenBiz, the company uses digital scales to weigh what's being thrown in the recycling, compost or trash containers and connects that information with an app that catalogs the pickup location and the type of material collected.