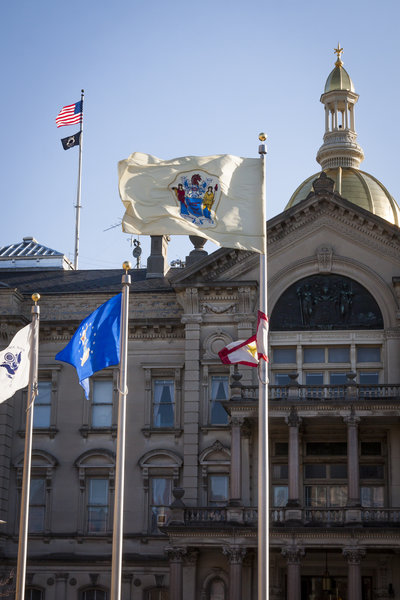 Electronics recycling in just a few years in New Jersey has gone from a highly successful and widespread program that processed worn-out televisions and computers to one where a growing number of e-scrap collection sites are being abandoned.
In 2011, New Jersey outlawed the disposal of worn-out televisions and computers in landfills and incinerators. Since then, tens of thousands of the consumer products have been safely recycled.
But those numbers are dropping steadily as product manufacturers – who are required by state law to provide for recycling of electronic waste as a free and convenient service statewide – shirk their responsibilities.
Manufacturers relied on already-established collection sites managed by municipalities and counties to gather the e-waste material that the law required. Using recycling companies they chose, they collected and processed the material from these sites. But manufacturers have, since the beginning, ignored parts of the state. One rural southern county and its towns have never had support from the manufacturers. Instead, they have had to cover e-waste program expenses themselves.
Reduced payments
To achieve their goal of controlling costs, the manufacturers have drastically reduced their payments to their chosen recycling companies who have contracts to pick up and process e-waste collected by municipalities and counties. The reductions are so steep that the recyclers are no longer able to provide the service for free, as the law requires. Instead, they are charging for pickups or limiting the service to certain geographic areas of the state, or shifting the cost of manpower, equipment, baling, shrink-wrapping and transportation to local and county governments. This cost cutting is really cost shifting – shifting the burden to municipal and county collection sites.
As a result of the new costs and service reductions, four of the state's 21 counties have dropped their recycling programs as have numerous municipalities. Areas that have been forced to suspend their programs see an increase in illegal dumping of old TVs and electronic products along roadsides and in the woods. The number of cancelled programs is expected to grow as local and county governments, still covered by older, multi-year contracts, find that they are unable to renew those agreements with e-waste recycling companies without incurring new costs that must be borne by their taxpayers.
New Jersey residents have come to appreciate – and expect – the recycling of their old TVs and computers. Towns and counties are having to dig deeper into their own budgets to keep their program running.
All this is putting towns and counties in a difficult position – where is the network that will collect the e-waste if they stop because they cannot keep absorbing the costs? Residents in many municipalities and counties have no other free and convenient option. And manufacturers have not built a network to collect this material, relying instead on municipalities and counties.
"It is difficult for the recycling community to understand how the companies that create products containing harmful materials like lead, mercury and cadmium can attempt to avoid their duty to provide for proper disposal of those products," said Dominick D'Altilio, president of the Association of New Jersey Recyclers (ANJR). "It's particularly galling when you read that they are realizing annual profits in the billions."
Legislation ready for vote
Environmental leaders in both houses of the state Legislature have introduced bills to force the manufacturers to meet their obligation to provide service all year long and in every part of the state. Those identical bills, S-981 and A-2375, are in place for a final vote in the Assembly after months of opposition from the manufacturers and from the state's two largest business organizations, which are taking direction from TV and computer manufacturers with U.S. headquarters in New Jersey.
The bills were delayed for months after the state Department of Environmental Protection (DEP), which originally helped shape the legislation, started to backstep after the manufacturers hired powerful lobbyists who intervened with the administration of Republican Gov. Chris Christie.
The DEP asked lawmakers to delay the Assembly vote until it could conduct "stakeholder meetings" with affected parties to search out a possible compromise. The agency failed to schedule those meetings for over six months until lawmakers presented a deadline after which they would refuse to consider any proposed changes that might emerge from the process.
The DEP finally released its proposal last month. It was so loaded with concessions to the manufacturers and lacking vital enforcement provisions that it was rejected by all segments of the recycling community.
At a recent Senate committee hearing, witness after witness from towns and counties, as well as from various environmental organizations and the ANJR, the New Jersey Association of Counties and the Association of New Jersey Household Waste Coordinators all testified that the DEP's proposed changes would not solve the problem with e-waste recycling. Following the hearing, the New Jersey League of Municipalities also announced support for S-981 and A-2375 without additional changes. All these parties urged that the legislation be adopted without further delay. That final Assembly vote could come as soon as Nov. 21.
We cannot stand by as New Jersey's e-waste recycling program continues to erode. We urge state lawmakers to pass – and Gov. Christie to sign – S-981/A-2375 without delay and without DEP's weakening changes.
---
The views and opinions expressed are those of the author and do not imply endorsement by Resource Recycling, Inc. If you have a subject you wish to cover in a future Op-Ed, please send a short proposal to [email protected] for consideration.
---