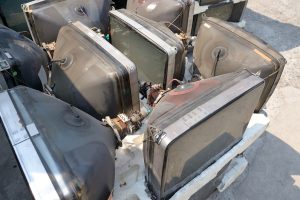 Property owners spent millions of dollars cleaning up CRT storage sites left behind by Creative Recycling Systems. But E-Scrap News has learned much of the glass went to companies that ultimately failed and abandoned stockpiles of their own.
After Florida-based Creative Recycling Systems filed for bankruptcy in September 2014, landlords in six different states – Florida, Illinois, Kentucky, Maryland, North Carolina and South Carolina – worked closely with state officials to remove 32 million pounds of legacy material.
The earliest cleanup was conducted in Maryland in December 2014 and the last cleanup was completed in September 2016 in South Carolina.
State records indicate most of the material was sent to a handful of downstream processors: Ohio-based Closed Loop Refining and Recovery, Kentucky-based Global Environmental Services (GES) and Illinois-based Kuusakoski Recycling.
Closed Loop and GES received more than half of Creative's stockpile and have since closed, leaving behind millions of pounds of their own CRT glass.  Both firms have been the subject of lawsuits and regulatory action.
Kuusakoski continues to operate its CRT operation.
Creative's CEO and founder, Jon Yob, did not respond to an E-Scrap News request for comment.
GES took in 13 million pounds
GES was the primary destination of glass from Creative cleanups, receiving a total of 13 million pounds of material from four abandoned properties in Maryland and North Carolina.
In December 2014, state officials in Maryland confirmed that 7.8 million pounds of material had been removed from Creative's former Elkridge, Md. processing site and sent to GES in Kentucky, said Jay Apperson, a spokesman for the Maryland Department of Environment's Office of Communication.
The case was closed after state officials determined Creative had not been storing any material elsewhere in the state.
In February and March of 2015, GES received more material tied to Creative's closure, taking in a total of 5.2 million pounds from three different sites in North Carolina, said Laura Leonard, spokeswoman for the North Carolina Department of Environmental Quality (NC DEQ).
Several months later, GES admitted it buried CRT glass near its site in Georgetown, Ky. GES' owner is currently facing federal criminal charges related to alleged mismanagement of hazardous waste.
According to Jon Maybrier, director of the Division of Waste Management for the Kentucky Department of Environmental Protection, CRT material remains in storage at at least two GES sites in the state. It is not known if any of that material came from Creative.
While the GES Georgetown, Ky. site has been largely cleaned out, a facility in Cynthiana, Ky. has an estimated 1.8 million pounds of CRT material in gaylords, Maybrier said. A third site, in Winchester, Ky., also contains some unprocessed material, including whole CRT units. "We haven't really gone in there and given a total assessment of what's in there," Maybrier said.
He noted the state has "an active enforcement case against GES and we're still pursuing enforcement action against GES and the owner of GES."
Closed Loop's connection
Meanwhile, Closed Loop Refining and Recovery, another failed CRT glass venture, received 3.5 million pounds of CRT glass in March 2015 from one of Creative's three North Carolina sites, said Leonard of NC DEQ. In June 2015, Closed Loop also received some material from a smaller Creative location in Louisville, Ky., records show.
Closed Loop closed in 2016 and left behind more than 200 million pounds of CRT glass in Arizona and Ohio. The company has faced a multitude of legal consequences as a result of its abandonment of material. It lost an $18 million lawsuit in Ohio and was sued earlier this month by an insurance company in Arizona, court records show.
The company is also currently facing a federal lawsuit from its former Ohio landlord.
Most of the rest of the material from Creative's locations made its way to Kuusakoski. Kuusakoski received 8.3 million pounds from two Creative sites in Florida and another in Illinois, officials from those two states confirmed.
Kuusakoski, which operates a CRT glass storage business with partner Peoria Disposal Company in Illinois and also sends material further downstream to smelters, received some material from Creative's Kentucky operation as well. That Kentucky location also sent a small amount of material to Illinois-based Com2 Recycling Solutions, state records indicate. Com2 has recently pushed forward on plans to use recovered CRT material to produce a glaze for tile products.
Finally, officials in South Carolina confirmed that 6.7 million pounds of material had been removed from Creative's former site in Blythewood, S.C.  The state said it was not aware of where the property owner sent the material downstream.
Property owners on the hook
At the time of Creative's collapse several years ago, it was not initially clear who would foot the bill for the cleanup. That changed, however, when a bankruptcy court approved an order in November 2014 that transferred ownership of the company's assets, including 32 million pounds of costly material, to the owners of the buildings where the material was sitting.
"They did not know that not only was the stuff not worth anything, it was a massive liability," said Jerry McHale, the former trustee appointed to oversee the liquidation of Creative's assets.
McHale, who has worked as a bankruptcy trustee for over 40 years, said the Creative case was "probably the worst job I've ever had." He estimated the cleanup costs incurred by the property owners in six different states totaled $2 million to $3 million. He confirmed that Creative played no role in the cleanup effort.
Property owners attached to various Creative sites did not respond to requests for comment from E-Scrap News.
McHale also suggested Creative set processing fees intentionally low in order to beat out competition and make money off of higher-value devices while letting CRTs accumulate.
"They did make some money on the higher-value stuff … and they sold some used equipment legitimately," McHale said. "But it was nowhere near the operating costs once you consider the problematic materials."
Court records indicate Creative did manage to get an $18.7 million lawsuit from Regions Bank thrown out due to the bankruptcy proceedings, which concluded in August 2016.
Photo credit: Anake Seenadee/Shutterstock
More stories about CRTs