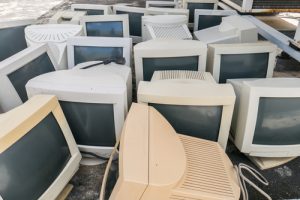 Kuusakoski U.S. will begin sending small amounts of leaded CRT glass to a smelter while utilizing non-leaded glass in an ongoing landfill construction project.
The company, which has relied on treating and storing crushed CRT glass on the site of a landfill in Illinois since 2015, announced the new initiatives in a press release last week. Kuusakoski U.S. is the American wing of the Finnish metals company Kuusakoski Recycling.
While it will not signal the end of Kuusakoski's storage operation, which has been the subject of fierce debate within the e-scrap industry, it will reduce use of that option.
According to Rich Hipp, Kuusakoski's CEO, all non-leaded panel glass will now be used in the construction of landfill gas extraction wells and wells that recirculate leachates, which are fluids that percolate through trash and collect at landfills. Kuusakoski's customers will decide how leaded funnel glass is handled by the firm, he said.
Some leaded glass will continue to be treated and stored as part of Kuusakoski's longstanding partnership with the Peoria Disposal Company (PDC), Hipp said. But some will also be sent to an unidentified North American smelter.
"Currently, the agreement is limited to two truckloads of glass per month. We are hopeful this will change and open up over time," Hipp said.
There are not many North American smelters willing to take CRT glass, part of the reason Kuusakoski began its storage operation in the first place.
Missouri-based Doe Run is the only smelter in the U.S. known to accept CRT glass, while Glencore and Teck Resources in Canada also handle the material.
Kuusakoski's storage concept, which was unveiled in 2015 to replace its use of treated CRT glass as alternative daily cover at landfills, has been controversial. Kuusakoski has argued that the material can be retrieved in the future for recycling, but critics, including the Institute of Scrap Recycling Industries, have argued that it's a form of landfilling and undermines years of investment in recycling opportunities for CRT glass.
The new CRT glass pathways for leaded and non-leaded glass were made possible by the addition of a CRT separation process at Kuusakoski's glass facility in Peoria, Ill. Previously, the firm crushed whole CRTs, treating and storing mixed glass at PDC's nearby Indian Creek Landfill.
According to Hipp, separated panel glass will be used as an aggregate substitute in wells at the PDC site. Illinois EPA and the County of Tazewell recently approved of the project and PDC's landfill is expected to have ongoing demand for the construction of new wells.
"It assures there is a demand and home for this recycled material," Hipp said.
More stories about CRTs