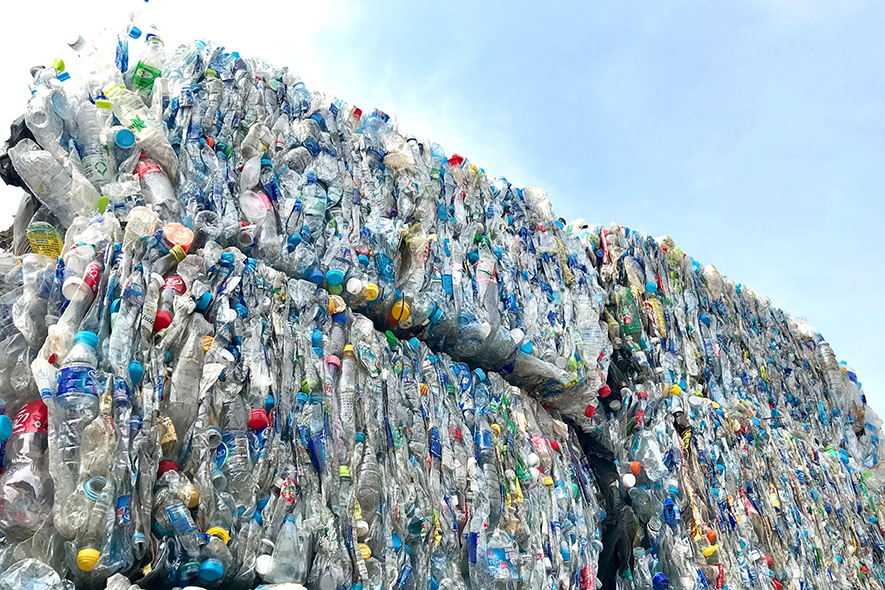 An Indorama Ventures executive says converging factors have led to growing recycled plastic demand, which is key to the resin maker's acquisition of reclaimer Custom Polymers PET.
Indorama, the largest PET producer worldwide, announced last month it will acquire the recycling plant, located in Athens, Ala. Indorama is expected to formally take control of Custom Polymers PET on Jan. 15.
The Custom Polymers PET recycling facility will be Indorama's first U.S. bale-to-flake plant. It's located 15 minutes from Indorama's Decatur production plant.
The facility has two lines producing more than 68 million pounds of RPET flake and food-grade RPET pellets per year. According to Indorama, which has nine production locations in the U.S., the acquisition will give the company a secured supply of domestic RPET.
"Regardless of the fluctuations in the quality of post-consumer feedstock, this recycling facility can offer consistently high quality recycled PET material that meets customers' specific needs in packaging and fibers," the company stated in a release.
That supply will "open up new opportunities to meet the ever increasing food grade RPET demand for more sustainable packaging solutions by major brand owners," the company stated.
In an interview with Plastics Recycling Update, Sanjay Mehta, sustainability manager for Indorama, expanded on the acquisition and the company's greater push into recycling.
Securing the supply
Indorama began acquiring recycling operations to supply itself with recycled material in 2011.
Indorama's U.S. PET operations have been buying flake to use as feedstock for some recycled-content products. Today, in North America, it is producing pellets with up to 25 percent recycled content.
In recent years, Indorama's needs for recycled plastic have increased as resin buyers have sought material with higher recycled content, and the company has added capacity at its Decatur, Ala. production facility and elsewhere, Mehta explained.
In terms of recycling capabilities, Indorama has bale-to-flake lines in other countries, including a joint venture in Mexico, but before the Custom Polymers PET deal, it did not have any bale-to-flake capacity in the U.S.
Indorama plans to evaluate the product mix at the PET recycling plant and determine how much it will use in its internal production. Additional RPET output would go to market.
Mehta said he couldn't disclose financial details of the acquisition.
Demand ramps up
A number of marketplace factors are pushing resin suppliers to dive deeper into the recycling realm.
"If you look at the last couple years' time, a lot of economic and social convergence has taken place from a sustainability angle," Mehta said.
Demand for resin with higher levels of recycled content has ramped up in the past 18 months or so, Mehta said. He identified three converging forces that have contributed to the increased pace.
Brand owners and retailers are adopting higher goals for sustainable material usage, Mehta said. Coca-Cola, Danone, Nestlé Waters, Pepsico and many others have pledged to increase their use of recycled plastic.
Meanwhile, non-governmental organizations (NGOs) have brought sustainability issues to the forefront of industry conversations. Mehta noted the Ellen MacArthur Foundation and its New Plastics Economy initiative have had a large impact on recycled content discussions.
"They really catalyze it that we need to have a circular economy," Mehta said. "This has helped us. This has fueled us in the direction we were on earlier."
Learn more in person
Virgin resin manufacturers are increasingly investing in recycling, and the trend will be the focus of the 
opening plenary session
 at the 2019 Plastics Recycling Conference and Trade Show. The event is taking place March 11-13 at the Gaylord National near Washington, D.C. 
Go to the conference website
 to learn more and register.
The third pillar is more recent: Financial institutions have joined the conversation, bringing capital along with an interest in investing in sustainability-minded business models.
Part of wider trend
Indorama's latest move comes as a growing number of virgin plastics producers have joined the recycling sector. LyondellBasell, one of the largest plastic and chemical companies worldwide, last year entered a joint partnership in a Netherlands plastics recycling operation. In July, virgin resin giant Borealis announced its purchase of a European reclaimer.
Indorama has taken a two-prong approach when it comes to recycling, investing in both chemical and mechanical recycling technologies. To advance depolymerization of scrap PET, Indorama has partnered with a Dutch startup, Ioniqa, and signed a partnership deal with Quebec company Loop Industries. In July, it signed a deal to acquire French PET and HDPE reclaimer Sorepla.
"I think the large resin manufacturers, chemical companies, are realizing the circular economy is not just talk, that they need to put their money where their mouth is," Byron Geiger, president of Custom Polymers PET, said in an interview. "They are making sure they are part of sustainability. My expectation is we'll see more of it."
"Sustainability" has been a buzzword in the plastics industry, but companies have made it a business priority over the past 18 to 24 months, Geiger added.
Geiger said the executive team will stay the same at Custom Polymers PET, which previously operated as a division of Charlotte, N.c.-based Custom Polymers. "Nothing for our facility in Athens, Ala. is going to change," Geiger said. "It's just new ownership."
In addition to its recycling-related deals, Indorama also recently received federal approval to begin a joint venture acquisition of the stalled M&G virgin PET and PTA project in Corpus Christi, Texas. The massive plant will have an estimated capacity of 1.2 million short tons of PET production per year and 1.4 million short tons of PTA. This plant, on which construction stalled due to M&G's 2017 bankruptcy, has been forecast to impact recycled plastics prices by adding so much virgin capacity to the domestic market.
Dan Leif contributed reporting to this story.
Photo credit: RecycleMan/Shutterstock
More stories about PET