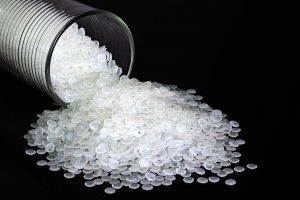 Prime plastic developments have occurred in the past two weeks, and they carry the potential to impact recycled resin prices.
A halted plastics production facility construction project appears poised for a revival. A joint venture investment group issued a March 21 news release stating they have entered an agreement to acquire the M&G plant in Corpus Christi, Texas.
Construction of the massive plant, which is expected to have a capacity of 1.1 million metric tons per year, was put on pause in the fall when M&G filed for bankruptcy. The Italian chemicals company stopped production at several plants and said it would take bids for the partially built facility.
Under the agreement, the new joint venture, called Corpus Christi Polymers, will acquire the plant for $1.125 billion.
In other news, ExxonMobil announced March 20 it is considering a Gulf Coast project to expand prime PP production capacity by 450,000 tons per year. According to a news release, the investment of "several hundred million dollars" would allow the company to create "advanced polypropylene products which can be used in high performance automotive, appliance and packaging applications."
The company describes the possible investment as one of 13 planned facilities, which together will grow ExxonMobil's chemical production capacity by 40 percent in North America and the Asia-Pacific region. ExxonMobil plans to make a decision on the Gulf Coast project later this year.
In a session at the Plastics Recycling Conference in February, research firm IHS Markit framed the M&G bankruptcy as a factor in higher recycled resin prices, as it constrained prime supply. Additional supply could push down the price for virgin and recycled resins in the future.
Both the ExxonMobil and M&G developments were first reported by Plastics News.
Photo credit: Praethip Docekalova/Shutterstock
More stories about markets