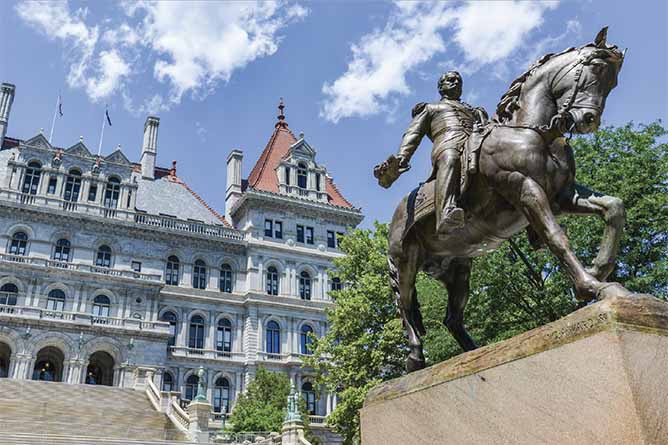 This article appeared in the August 2022 issue of Resource Recycling. Subscribe today for access to all print content.
There seems to be disagreement in the industry – and confusion for the public – on whether or not recycling is "broken." But regardless of the word we use to describe it, most recycling professionals would agree that there's plenty of opportunity to improve the supply chain, starting with product design, then moving through collection and sortation, with a continual focus on quality in order to feed end-use manufacturing.
Increasingly, stakeholders are turning to extended producer responsibility (EPR) policies for packaging to help frame that change. When designed well, EPR offers the opportunity to transform how we manage packaging waste for recycling. The key is setting enforceable performance targets to align all stakeholders to invest and continuously improve the system. In this way, EPR does much more than just shift who pays for the program.
While Canada and Europe have working experience with EPR policies – and are reforming their own laws to make them more effective – U.S. states that are moving toward EPR are admittedly on a learning curve, and they're up against established stakeholder interests concerned with change.
To ensure EPR success, policymakers need to remain focused on the key drivers: clarifying responsibility, setting targets and designing for recycling throughout the value chain.
It's also important to note that the working example of an EPR program for packaging can be seen in the deposit-return programs found in nearly 40 countries around the world, all of which have outperformed alternative systems. And while they've never been "broken," over the last decade it's become evident that existing deposit programs in the U.S. need surgical fixes that will put them on the path to achieving circularity.
EPR rolling out near and far
Although there's a relatively established collection and recycling infrastructure in the U.S. – spread out across approximately 10,000 different recycling programs – it is by no means universally optimized, harmonized or accessible.
Municipalities do not possess the financial means to adapt to an ever-changing material stream (think multi-material, multi-layer plastic packaging applications and other unforeseen innovations), nor do they control what is put on the market. Well-designed EPR policy sets performance expectations in statute, but also allows the private sector to implement and finance the program in ways that are efficient and effective.
Across the globe and in select U.S. states, we are seeing examples of EPR frameworks that are harnessing best practices to bring about stronger recycling systems.
The European Union's Single-Use Plastics Directive, for example, introduces additional requirements beyond the EU's Packaging Directive that mandates EPR for all packaging. Single-use plastic beverage containers are subject to increased collection targets (90% separate collection by 2029) and recycled content requirements (30% by 2030). Additional EU regulations will be published later this year and are expected to expand the recycled content targets to all plastic packaging, specify minimum requirements for deposit return systems and improve the definition of recyclability, among other mandates.
Meanwhile, in June of this year, California became the fourth state to adopt EPR for packaging (SB 54) and arguably has the most ambitious program to date. SB 54 includes targets for recycling of all materials, as well as a bonus/malus system for PCR content and other attributes, which in combination will improve the environmental impact of the packaging we use in our daily lives.
California, due to its tremendous market impact both in the U.S. and globally, has the opportunity to make significant headway toward improving our national footprint on waste and recycling.
Finally, in New York, Assemblyman Steve Englebright took the lead this past legislative session with his own packaging EPR bill (A10185) that included performance-based outcomes that align with the waste hierarchy as well as targets for recycling, PCR and reusable packaging.
Such targets would scale up over time, allowing the industry time to adapt to the changes.
Key components of bills
The target-based approach we are seeing in the strong EPR examples noted above allows for producers to incrementally change the materials they put on the market and also consider quality and quantity when investing in the necessary infrastructure.
Furthermore, the target structure addresses both supply and demand considerations, using recycling rates to increase the quantity of material in the system and recycled content targets to ensure that material ends up back into new products. Setting targets in-statute that require the use of post-consumer plastic resin (PCR), for example, creates a clear and committed pull from the supply chain, thus encouraging investment and innovation and helping packaging producers meet the demands of their customers.
As compared to California's targets, New York takes a more granular approach by material type, allowing more accurate measurement and assessment of system performance.
Within the trend of EPR for packaging, there has also been strong interest in requiring a needs assessment to identify current capabilities, along with what types of systems and investment would be needed to deliver on the targets. Where a needs assessment is deemed necessary, of critical importance is that it isn't used to slow down the implementation process. Rather, the assessment should run concurrently with the ramp-up of EPR implementation.
One other significant trend worth nothing within EPR – and environmental policy in general – is a focus on equity and environmental justice. Oregon's EPR program, signed into law last year, includes standards for equity in the system, and California's program requires substantial investment from industry (totaling $5 billion over 10 years) to mitigate the harms of pollution on impacted communities.
How best to manage beverage containers
If our goal is to reduce the demand for virgin materials and to improve material circularity, then states must also consider modernizing deposit-return programs – or adopting such a program if none is in place – at the same time they consider EPR policy for curbside collection and recycling programs.
Globally, deposit return systems (also called 'bottle bills') are the most common type of EPR for packaging, delivering the highest collection and recycling rates for beverage containers at levels that far exceed curbside programs.
The opportunity to end beverage container litter and wasting is clearly appreciated. And the solution is known and understood by the public, regulators, and brand owners. The pathway to circularity and a greener planet is significantly narrowed and lengthened if we are stuck in the belief that we can only tackle one program at a time. Rather, we must take a holistic approach that covers all packaging while matching the most effective program to the product type.
The next iteration of EPR
While much remains to be determined in the rulemaking processes in the states that have adopted EPR for packaging, the industry as a whole – and the wider stakeholder value chain – has started to gain a better understanding of what EPR means, what it can deliver, and which key design elements are needed to strengthen the next set of bills.
In setting key principles, including driving collection volume and improving material quality for manufacturing, EPR policies can come out the other end of the debate able to achieve circularity for packaging.
Sarah Bloomquist is the director of public affairs at TOMRA Systems and can be contacted at sarah.bloomquist@tomra.com. In April 2022, TOMRA published a white paper on EPR for curbside packaging: "EPR Unpacked – A Policy Framework for a Circular Economy."
This article appeared in the August 2022 issue of Resource Recycling. Subscribe today for access to all print content.