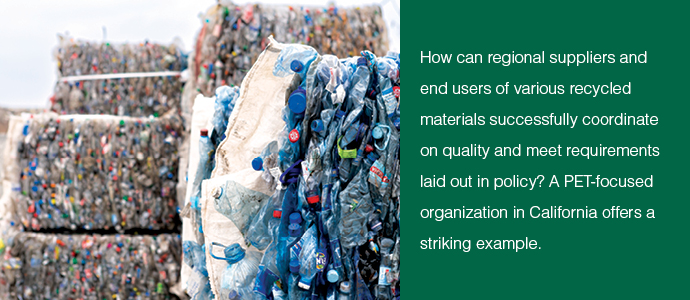 This article appeared in the August 2022 issue of Resource Recycling. Subscribe today for access to all print content.
For more than 30 years, the Plastic Recycling Corporation of California (PRCC) has proven that a voluntary producer responsibility organization can successfully manage the recycling of a specific product at the state level.
PRCC works to keep PET beverage bottle recycling rates high while simultaneously keeping recycling system costs low. Through its purchase and sale of PET beverage bottles, PRCC provides market stability.
Both adaptable and resilient, PRCC successfully manages California's huge PET recycling market with minimal disruptions. For example, the organization has kept California's recycled PET moving through unforeseen and challenging events such as China's National Sword Policy, COVID closures, logistics disruptions, weak markets, adjustments to public policy and ever-evolving PET package design.
As the wider recycling sector works to adapt to policy shifts in jurisdictions across the U.S., officials can learn much from the evolution of PRCC and how it has worked to organize and align various links in the plastics recycling chain in California.
How it started
PRCC was formed in 1987 as a direct result of legislation: the California Beverage Container Recycling and Litter Reduction Act (AB2020), which established a bottle bill in the state.
The law meant that beverage producers selling or distributing in California had to pay a deposit and a processing fee. The processing fee was calculated as the difference between the scrap value of the containers and the cost to recycle them. This resulted in competing soft drink bottle manufacturers making the unique decision to work collaboratively to set up an effective statewide recycling program to increase the recycling rate of their packaging.
Thus, PRCC was formed, developed as a nonprofit voluntary producer responsibility membership organization that immediately began purchasing PET bottles. PRCC also implemented innovative marketing and promotional strategies to increase redemption rates and public awareness of PET recycling.
At PRCC's inception, there were no reclamation facilities in California, there were limited markets for post-consumer PET bales, and most of the PET collected in California was exported to China via Hong Kong. PRCC staff visited China on many occasions and were made aware of China's intention to end its reliance on Western imports of PET bales and develop its own recycling infrastructure. It was with that foreknowledge that PRCC prepared for market changes and actively developed the California PET reclamation infrastructure.
There are now six reclamation facilities in California, more than enough to process all the PET bottles collected in the state. This was accomplished by providing supply contracts to several facilities. These bankable contracts helped the PET reclaimers by ensuring a consistent supply of raw material. PRCC also offers reliability and stability in payment, even assisting with credit at times, and PRCC supports California's reclamation facilities by actively working to keep the PET bales in the state. The policy of keeping PET in the state is now more important than ever because of California's recently enacted recycled content requirement. Currently, over 90% of PRCC volume stays in the U.S. and most of that stays in California.
What makes it work
A key element to PRCC's work has been clarity on pricing and market information.
The transparency of PRCC's bid system makes PET bale pricing in the state accessible to redemption centers and processors, ensuring economic openness. An open bid is held every two weeks, with California suppliers providing PRCC with a list of their baled PET loads by type and PRCC putting the unallocated portion of the loads out to auction for pre-qualified buyers to purchase.
PRCC then awards the material to the highest bidder(s). The bid sets the value for the material allocated to contracted buyers. This provides the industry with a true market price that is openly shared with recyclers to ensure they get the best value for their material.
Additionally, as a California organization with relationships across the entire PET recycling value chain, PRCC is well-positioned to collect data and undertake research that is of great value to PRCC members, redemption centers, curbside operators, PET reclaimers, policymakers and other stakeholders.
For example, in 2019, PRCC conducted a unique study on PET loss, finding that 12% of clear PET is lost during reclamation, and that much of this is due to non-conforming PET bottles such as opaque bottles, metal components and non-recyclable barrier bottles. (See the June 2020 issue of Resource Recycling for more on this project.)
This data informed PRCC legislative efforts to discourage nonrecyclable and difficult-to-recycle PET.
Finally, PRCC works regularly with all stakeholders to provide feedback from processors and reclaimers directly to PRCC members – bottle and beverage manufacturers – on issues of recyclability and design. These issues include colored bottles, full-wrap labels, barriers and metal closures. This collaboration moves the dialogue forward and encourages the manufacturing industry to enhance the recyclability of their PET bottles.
Material quality in focus
The quality of California PET bales is nationally recognized and is directly tied to PRCC's work and advocacy in the state.
To promote quality, we have an active agent in the field who educates and provides technical assistance to MRFs, processors and redemption centers. The PRCC agent visits facilities and offers assistance on sorting and baling, which allows PRCC to move each facility's material to the market that can best utilize it.
Each reclamation facility has different quality needs. PRCC's agent organizes visits between suppliers and buyers so that each side knows the quality and standards expected. However, our work is not done there; California reclaimers still deal with a wide range of contaminants in their bales, and PRCC staff continually strive to maintain and enforce adherence to PRCC's bale specifications.
California bale quality is complex, as there are different methods of collection: buyback, drop-off and various types of curbside, all of which impact material quality. PRCC's research – including regular bale sorts – leads directly to PRCC implementing additional bale specifications. When PRCC started, there was only one PET bale specification in California, but we now have four bale specifications: grade A (buyback), grade B (curbside), grade B with thermoforms (curbside), and thermoform-only bales.
PRCC encourages the separation of thermoforms from PET bottle bales. The reasons for this are twofold: to improve the quality of PET bottle bales and to create thermoform-only bales. By grading bales, the supplier is rewarded for better quality with a higher price and the reclaimer obtains a higher yield. The variety of bale specifications helps PRCC staff to ensure reclaimers pay a price commensurate with yield and purchase the optimal material for their system, whether it is buyback material to make bottles into bottles or thermoforms separated from PET bottles with the goal of developing thermoform-to-thermoform recycling.
Based on feedback from California's PET reclaimers, PRCC developed a quality app so that reclaimers can instantly provide feedback on bale quality to assist PRCC in maintaining bale standards. By improving PET bale quality, the cleaner material leads to higher scrap prices, which in turn improves the economics of statewide collection. While recycled PET bottle pricing is strong today, at times, scrap prices have been so low that margins were squeezed and operations struggled, exacerbating the issue of encouraging new redemption centers to open. PRCC's cultivation of the quality of PET scrap helps to ensure consistent interest and a diversity of buyers for the material.
Maintaining a robust presence
It is the direct knowledge of the marketplace, through the purchase and sale of PET bales, that allows PRCC to anticipate disruptions to the market and work to avoid interruptions. PRCC is able to respond quickly to issues like port delays and facility closures because it has developed a diversity of buyers, meaning there is always a way to move material to different markets.
PRCC's longevity and credibility have allowed for well-established relationships to develop, which in turn enhance the stability, efficiency and uniformity of the California PET recycling industry. They have allowed PRCC to achieve a strong market position and support the growth of the reclamation industry in the state. Armed with knowledge about PET recycling markets, bale quality and the full PET value chain, PRCC is able to quickly address issues and challenges that test the PET recycling industry, including contamination, collection and policy. PRCC advocates for the PET recycling industry to promote greater efficiency, cleaner material and higher collection rates.
PRCC continues to operate with the same goals now as it did in its inception, working across the entire value chain with a system-wide approach. This results in efficient and effective PET bottle recycling that supports the entire PET recycling industry. PRCC is viewed in the state and beyond as an industry expert on PET recycling – and as a guardian of the market, working to improve quality and accessibility of PET bales in circulation, and as an unmatched data source on PET recycling in California and beyond.
Sally Houghton is the executive director of the Plastic Recycling Corporation of California and can be contacted at shoughton@prcc.biz.
This article appeared in the August 2022 issue of Resource Recycling. Subscribe today for access to all print content.