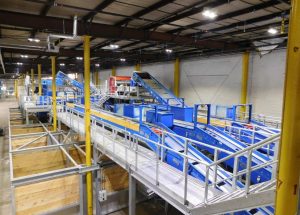 Parties working to reopen an idled plastics recovery facility in Maryland are going back to the drawing board after a possible investor withdrew from talks.
The Dundalk, Md. facility, launched in 2015 as a joint venture between QRS Recycling and Canusa Hershman Recycling, has been closed since August. In February, Plastics Recycling Update reported that an interested party had signed a letter of intent for a transaction that would be an acquisition of the facility.
Stakeholders did not disclose the name of that interested party, and they have now confirmed that the potential partner backed out.
"Unfortunately, the entity we were in negotiations with had difficulty with closing the transaction, so the facility has not been sold," said Jonathan Sloan, president of Canusa Hershman Recycling. He declined to elaborate on the reasons the deal was not closed.
QRS exited the plastics recovery facility (PRF) partnership in November, and Canusa Hershman has been looking for a new company to invest in the operation. The Closed Loop Fund, a recycling-focused investment group that's backed by large corporations, provided initial financing for the facility and has been party to the recent search for a new partner.
Prior to its idling, the site took in baled mixed plastics and separated out specific resins.
According to Sloan, the PRF team continues to search for a partner company to step in as investor or owner.
"We have talked to and will continue to talk to a wide spectrum of folks," Sloan said.
Despite the potential deal falling through, Sloan said the team remains confident in the viability of the PRF. There has been renewed interest in the notion of digging deeper into the mixed plastics stream because China has reduced its role as a downstream outlet, he noted.
"We're optimistic about the future of the facility, especially given the change in the market with this type of material, and the lack of markets overseas," Sloan said.
More stories about challenging-materials