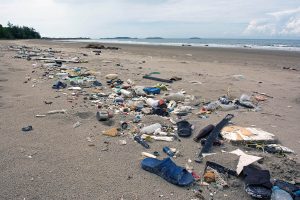 An industry-funded ocean plastics prevention initiative has received support from a number of new partners, including brand owners, a chemicals giant and an intergovernmental group.
Closed Loop Partners announced last week that the collaborative Closed Loop Ocean effort has added The Coca-Cola Company, Dow Chemical Company, Kimberly-Clark, and Partnerships in Environmental Management for the Seas of East Asia (PEMSEA) as supporters.
The initiative launched last fall with the goal of raising $150 million to fund waste management and recycling infrastructure in Southeast Asia. The region was targeted because it is the top contributor to marine plastic debris. The group says roughly eight million metric tons of plastic enters the ocean each year from five rapidly growing economies: China, Indonesia, the Philippines, Thailand and Vietnam
Closed Loop Ocean is focusing on funding projects to improve collection, sorting and end market development for scrap plastic in the region.
The new partners join a handful of initial supporters, including 3M, the American Chemistry Council, Ocean Conservancy, PepsiCo, Procter & Gamble, the Trash Free Seas Alliance and the World Plastics Council.
Photo credit: Santiparp-Wattanaporn/Shutterstock
More stories about Asia