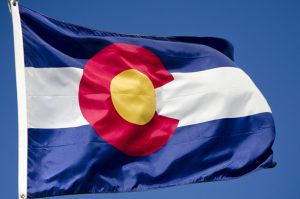 Colorado's recycling advocates have taken on a new strategy aimed at boosting the state's diversion rate. Over the past year, the Colorado Association for Recycling identified key goals and specific actions it will take to attain them, according to the group's director.
Compared with many other states, Colorado ranks low in terms of recycling. It has a combined residential and commercial diversion rate of 12 percent, whereas the nation has a roughly 34 percent diversion rate.
"There's nothing here but opportunity, but the challenges are immense," said Laurie Johnson, executive director of the Colorado Association for Recycling (CAFR). Johnson marked her first year as executive director this month, and in an interview with Resource Recycling, she offered up her take on the state's materials recovery trajectory.
To meet current challenges head-on, Johnson noted, CAFR over the past year convened businesses, cities, consultants, nonprofit groups and other stakeholders to develop a new way forward. Johnson also noted a strong and committed board  at CAFR has kept the organization moving forward despite some significant obstacles, including the sudden death of the group's previous leader.
Colorado's challenges
Johnson pointed to a lack of infrastructure holding back collection efforts, and a lack of end markets making it difficult to build support for increased collection.
"If everybody here were to divert their food waste and we would make compost, we would be really stuck, because we don't have anywhere to sell it," she said. "That's a political issue, it's an economic issue, and again, it's that end-market issue."
On the residential collection side, the hauling structure is also holding back increased diversion, Johnson added. A majority of the state's recycling programs are set up under the open subscription model, rather than the single hauler or franchise zone system. That makes it particularly difficult to streamline messaging, among other challenges.
Politically, there is far less support and momentum for government mandates on recycling than in states such as California, for example. And geographically, the state doesn't have easy access to ports to move material.
Planning for change
CAFR went through a four-month planning process over the past year to develop a new strategy. The goal was to come up with specific initiatives the group would work toward, with a simple criteria for choosing which would be included.
"My key tagline is, 'If it's not tangible, actionable and measurable, we don't do it,'" Johnson said. "It has to meet those three criteria in order for us to even think about doing it."
The strategic plan covers 2018 through 2020, and its overall purpose is to see Colorado hit 50 percent diversion and expand recycling access statewide. Work toward that goal is detailed in the annual operating plan, along with key performance indicators to track progress throughout the year. In 2018, for instance, the organization aims to lead projects to development material collection or processing infrastructure and end markets.
The organization has also pledged to create two new "regional councils," a concept recently developed as one way to ensure CAFR represents the entire state.
"We convene roundtables out of which come action groups that work on one specific task for 12 months," Johnson said. For example, CAFR's first regional council was formed in Colorado Springs in July, and it has convened an action group that's working toward a cardboard disposal ban in that city.
Organization in flux
The strategic plan is one of many changes the Colorado organization has undergone in recent years.
In late June 2016, the organization experienced a tragedy, when former Executive Director Cara Russell was shot and killed by her estranged husband in the CAFR office in Denver. She had taken on the role a few months earlier.
The board took on the volunteer roles of running the organization without an executive director, and continued its work while supporting Russell's family. Johnson said board members really stepped up to keep things together while dealing with the traumatic event.
"It was recognizing it and not running from the hard conversations, and just moving forward with as much compassion as we possibly could," Johnson said.
CAFR had been without an executive director for a period of time before Russell's tenure, meaning this is the longest period the position has been filled in several years.
Johnson took on the role at the beginning of 2017. She previously worked as a vice president at Recyclebank, which she said allowed her to see recycling from a variety of perspectives. She got to know the hauler side, municipal side, business aspect, state association perspective and more. She was also a board member for the State of Texas Alliance for Recycling (STAR).
As for advice for other state recycling organizations looking to change direction or plan more concrete actions, Johnson said the groups shouldn't be afraid to risk failure.
"It'll pay off, because the community wants to see something that's relevant and tangible," Johnson said. "And if you fail, try again. That's the nature of successful anything: Failure is simply a building block to success."
More stories about local programs