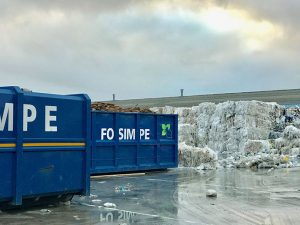 A representative from a European firm that has felt the direct impacts of China's import restrictions on recovered plastic recently offered an inside look at the fallout from the unprecedented disruption to industry trade.
"For now, we are mostly focusing on Southeast Asia for our exports," said Pablo Leon, Asia manager for Fosimpe S.L., a major Spanish broker of recovered plastics. "We are changing our whole strategy."
Leon spoke to Plastics Recycling Update in mid-December, laying out a timeline of impacts his operation experienced throughout 2017 and providing a detailed picture of the current recovered plastics market. The difficulties and adjustments that have defined Fosimpe's business over the past year help highlight the realities of the struggle to survive amid current market turbulence in the global plastics recycling sector.
Company background
Fosimpe is a Spain-headquartered collector and broker of recovered plastics. The company has a warehouse of roughly 108,000 square feet close to Madrid, and is currently working to move into a larger warehouse of nearly 270,000 square feet.
The company launched in 2004, collecting post-industrial plastic, metal and paper scrap from Spanish factories.
It evolved to focus primarily on plastics, branching out into post-consumer material, and began sourcing recovered plastics from other European countries and locations in South America and Central America.
The company brokers the material to downstream processors, and its buyers vary based on the type of plastic. Fosimpe works with plastics Nos. 1-6.
Fosimpe began exporting a couple years after it launched. As it began handling more material, particularly in China, the company in 2014 decided to open an office in Shanghai to manage the company's entire Asian market: By that time, Fosimpe was also sending material to Malaysia and Indonesia.
"Most of our partners so far have been in Asia, obviously," Leon said, "because there are many more companies doing their recycling there."
Fosimpe exports between 10,000 and 15,000 metric tons of plastic each year, which is about half the material the company moves overall. The company also handles paper and metals, but those materials are mostly moved locally, Leon said.
"We started feeling it as soon as it happened. We couldn't know what was going to happen for the shipment that we had on the sea."
– Pablo Leon of Spanish scrap plastics broker Fosimpe
Current situation
With such a reliance on the Chinese market, it's little surprise that the import restrictions put in place by the country's leadership throughout 2017 jolted Fosimpe and many others.
By the end of  2017, scrap materials had virtually ceased movement into China, Leon said, due largely to Chinese officials declining to issue new import permits.
"Right now, we cannot find any buyer with an import quota in China as of today," he noted. "We are waiting to see what happens."
Import permits for the coming year are usually issued in December, but as the month moved on without any movement on permits, rumors began to swirl of January issuance. Leon said the most recent news he'd heard was that they could be pushed even into February, but that there was no official word from the government.
The company is working with buyers in Malaysia, Vietnam and Thailand mostly, Leon said, and some Chinese factories are moving to those countries. Fosimpe is also working to develop domestic recycling opportunities in Europe.
"Of course, this is not something you can do from one month to the next month,he said. "It takes time."
Justification for the ban
Leon, who has lived in Shanghai for six years, said the Chinese government is making the changes in order to improve its environment, including air quality and pollution. And he said the country could certainly improve in those areas.
But he noted the implementation of the new measures seems to be happening too fast.
"Nobody has had time to adapt to this," he said.
The restrictions are probably too strict, he noted, adding that the government actions have forced a number of responsible factories, with positive environmental controls in place, to shut down.
The market upheaval is also negatively impacting the manufacturing end users in China, Leon explained. Companies that were using recycled content are now struggling to meet commitments with clients.
"They are increasing their prices, and they cannot produce as much as they used to produce," Leon said.
Previous Chinese rules limited contamination in incoming scrap loads to 1.5 percent, but most Chinese scrap buyers had accepted much higher levels, Leon said.
In August, China proposed revising limits on contamination to 0.3 percent. Officials revised that number in the following months, floating a 1 percent figure before officially filing notice with the World Trade Organization that China would limit most inbound non-banned recyclables to 0.5 percent contamination. Chinese officials have said they plan to strictly enforce these new regulations.
Leon described the 0.5 percent figure as a strict limit but said it could be met for post-industrial plastics, although he said it could be unreachable for certain materials. But enforcing that level seems difficult, he noted.
The 0.5 percent figure "sounds more like a guideline than like a real way of measuring the contamination," he said. "Because otherwise they would need to unload the whole container in customs, sort it, and then after that check whether it's below or above 0.5 percent."
Impact builds through the year
Leon said that for his company and other China-reliant exporters, 2017 was a lesson in unpredictability.
China announced its National Sword initiative in February. Officials said it would target smuggling operations bringing in illegal shipments of a variety of imported materials, including recyclables, agricultural products, guns and more.
It was carried out by increasing port inspections. That meant legal imports, including those handled by Fosimpe, experienced longer processing times.
"We started feeling it as soon as it happened," Leon said. "We couldn't know what was going to happen for the shipment that we had on the sea. Some of them were very smooth, some of them a bit less. We didn't have any big issues, but we started feeling that our customers, our partners in each area in China, were worried."
Fosimpe's buyers began asking the exporter to work with shipping lines to mitigate shipping delays. And some buyers wanted more time to hold onto containers without charge before returning them to the shipping company.
When National Sword launched, companies immediately recalled the trevails of 2013's Green Fence customs crackdown
"They were faster to react," Leon said of exporters. "And there were not so many rejections as were in the Green Fence. The big problem was the delays in the ports."
But things quickly became more problematic. The delays naturally precipitated a decline in material prices, and customers became afraid to place orders. The uncertainty on whether materials could make it into China created massive market instability, Leon explained.
"Many companies just stopped buying," he said.
As exporters and Chinese buyers were figuring out how to adapt to the market jolt, more challenges began to emerge.
By late May and early June, the Chinese government stopped issuing new import quota licenses, which allow importers to bring a certain quantity of materials into the country. In prior years, an importer that reached its limit could apply for a new quota and be able to resume imports.
When the government stopped issuing new permits around May, companies that used up their allotment were unable to import anything else for the rest of the year.
At the same time, Chinese authorities were talking about enacting new policies that would further restrict scrap imports. The government's plans were publicly confirmed in July, when the country told the World Trade Organization it would ban some types of recovered plastic, paper and other scrap materials by the end of 2017. Officials also announced further policy changes that would restrict the volume of scrap imports for materials not named in the ban, and would build up the recycling industry for domestically generated materials.
By mid-summer and early fall, most Chinese scrap buyers "couldn't place any orders," Leon said, due to running out of import quotas and the government refusing to issue new allotments. Some Chinese consumers of scrap material began immediately looking for alternatives, he said. For those with the means to do so, that meant opening factories in Southeast Asia and shifting operations out of China.
"But some of them, they were waiting for the final news from the Chinese government," Leon said.
Pablo Leon will be speaking at next month's Plastics Recycling 2018 conference on a panel discussing the impacts of China's recent import policies. Get full details on the event and register today at plasticsrecycling.com.
More stories about exports