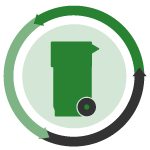 More cities begin curbside collection of food-service packaging, and a municipal program offers refunds to customers after recycling loads are sent to the local landfill.
Curbside changes: Three cities have recently added food-service packaging to the list of recyclables they collect, allowing 460,000 U.S. households to begin recycling those materials at the curb. In a press release, the Foodservice Packaging Institute describes how Washington D.C., Chattanooga, Tenn. and Louisville, Ky. made the decision to collect the materials, which include paper and plastic cups, to-go containers, pizza and sandwich boxes, and paper bags.
Lesson in contamination: After a disagreement with her fiance over which materials should go into their local recycling program, a columnist for the San Francisco Chronicle took a tour of the city's Recology MRF to learn the truth. Caille Millner discovered that although half the material going into the garbage can could actually be recycled, contamination is also a major problem for the MRF. The facility was Resource Recycling magazine's MRF of the Month in September.
Seizing an opportunity: Experts have predicted China's restrictions on scrap imports will lead to investment in processing technology elsewhere, and one writer sees evidence this is already happening in Japan. In an op-ed for Bloomberg, Adam Minter points to Mitsubishi Metals' recent major investment in electronics recycling capacity as an example of this trend is beginning to take shape.
Tackling organics: California Gov. Jerry Brown has signed legislation that aims to cut down on the state's food waste. In two press releases, Californians Against Waste announces the passage of AB 1219, which requires more outreach to encourage food donations, and AB 954, which will promote simplified language in food labeling.
Pants recycling: Fashion label Rag & Bone has launched a denim recycling program that will accept old jeans from any brand at the label's specialty stores in exchange for a discount incentive. The company says the collected denim will be processed and used in the manufacturing of UltraTouch Denim Insulation.
Forcing the issue: At Boston's Emerson College, recycling is not just an option anymore; in some areas, it's the only option. The Berkeley Beacon student newspaper reports the school's sustainability officials have removed trash cans from classrooms and replaced them with larger recycling receptacles in the hallways. The plan is based off successful models at other schools, but Emerson's custodial department says it is also leading to trash on classroom floors.
Resuming service: Officials in Houston say the city's curbside recycling program could begin collections again in early November after being halted due to Hurricane Harvey in August. The Houston Chronicle writes that collection crews were diverted from recycling collection in order to truck massive amounts of hurricane debris to local landfills.
Dumping dilemma: A recycling collection truck in Hattiesburg, Miss. repeatedly dumped loads of recyclables at a local landfill, and city officials are looking to rebuild public trust in the voluntary recycling program. The Hattiesburg American reports 156 recycling participants had their recyclables dumped in the landfill, and the city is offering all of them refunds of up to $90 based on how long they've participated in the program.