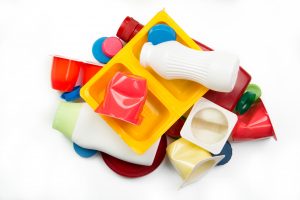 CalRecycle last week convened stakeholders to continue to discuss the possibility of requiring producers to play a role in the end-of-life management of packaging materials.
The meeting covered components that could be included in such a program and included robust debate about the merits of extended producer responsibility (EPR) efforts.
Officials with the California Department of Resources Recycling and Recovery (CalRecycle) stressed they are not at the point of developing a legislative policy.
"We are looking at developing a mandatory policy model, but we don't have any particular outcome in mind at this point, so there's a lot of things on the table," said Howard Levenson, deputy director of CalRecycle's materials management and local assistance division.
Still, the very premise of a mandatory approach was questioned many times during the highly attended workshop, signaling a long road ahead if the agency wants to develop a consensus on packaging management.
The meeting was the first part of a process that will take 12 to 18 months, explained Cynthia Dunn, supervising senior environmental scientist for CalRecycle.
Regulatory roots
Packaging emerged as a target after California lawmakers passed Assembly Bill 341, which in 2012 set a goal for the state to reach 75 percent diversion by 2020.
According to CalRecycle, packaging makes up a quarter of the entire waste stream statewide, with 8 million tons of packaging landfilled in 2014.
The agency decided the target diversion rate was unachievable without addressing packaging, so in 2014 CalRecycle convened stakeholders to discuss how to proceed. Agency officials preferred a mandatory packaging management program funded by the industry, while industry leaders pushed for a voluntary approach.
In early 2016, CalRecycle held what it called the "Manufacturers Challenge," where producers were asked to identify specific steps they would take to increase packaging recycling. Eight months later, CalRecycle determined its requests "were not addressed in a meaningful way," Dunn said. The agency's director approved pursuing a "comprehensive, mandatory packaging policy model" that could also include voluntary steps.
All of that led up to the March 22 workshop in Sacramento, where two panels of experts from various backgrounds discussed what might work in the Golden State and fielded questions from manufacturing and recycling stakeholders.
EPR experiences
No U.S. state has EPR for packaging. Outside the U.S., however, it's more common, and one doesn't have to look further than Canada for an example of how it could work.
Lawmakers in British Columbia revised EPR legislation in 2011 to begin a mandatory printed paper and packaging (PPP) program. The stewardship organization, Multi-Material BC (MMBC), began collecting packaging in 2014. In its first full year of operation, British Columbia's PPP program hit 77 percent diversion, surpassing a government-set target.
During the CalRecycle workshop, industry representatives criticized MMBC for holding a monopoly on PPP management in the province. Panelists countered that a stewardship group is most effective when it doesn't have to compete with similar programs, and that some producers enjoy the fact they only need to work with one organization, rather than three or four different municipalities.
There were also concerns about the accountability of a nonprofit organization that's not subject to the transparency requirements of a public agency. Allen Langdon, head of MMBC, said there has been no attempt to hide information and pointed out the organization publishes an annual report on its activities.
"I'm not here to say MMBC is the perfect system, but it is the best example of EPR actually working and making producers responsible for the end-of-life management of material," said Langdon, who recently co-authored an in-depth feature for Resource Recycling on how MMBC works.
In Europe, stewardship advocates emphasize that the EPR system should be owned and operated by the obliged industry, said panelist Mario Schembri, a board member of the Extended Producer Responsibility Alliance (EXPRA), Europe's packaging EPR group.
Haulers and regulators are not involved in the organization. That helps ensure the charges levied on producers are fair, because there's no incentive to charge one's own company a higher fee, he said.
Schembri pointed to the wording of legislation as another key component of successful EPR.
"Good legislation is one that is understood by those who are supposed to fulfill it," Schembri said.
Legislative realities
Panelists expressed almost universal doubt that an EPR program could be implemented using a visible fee, known as an advanced disposal or advanced recycling fee (ARF). Although California lawmakers passed an ARF to cover electronics recycling in 2003, the process has changed since then. In 2010, voters passed Proposition 26, which requires a two-thirds vote of the legislature to levy new taxes and fees.
"If we're going to be realistic here, we have to think about, 'What kind of mandates can make it out of the legislature?'" said Debbie Raphael, director of San Francisco's environment department. "So anything that's going to require a two-thirds vote is not going to be something I'm going to want to put a lot of time into necessarily."
She predicted the costs of any EPR program would instead need to be internalized by producers.
Greg Haskin of Pepsico pointed out there were at least 100 bills before California lawmakers that require a two-thirds vote. He said recycling advocates should at least try that route. He also stated that even if consumers don't see an explicit fee, the costs would ultimately be passed to them.
"Nobody's expressing any concern about the end price or the end cost of these things," he said. "I understand that in many ways we're trying to sort of drive decision-making by cost, but it's still important that consumers have some say in this process."
Chuck Helget, a panelist representing Republic Services, touched on the importance of cost considerations as well. He advised against raising recycling costs to the degree that illegal dumping increases.
Components to consider
EPR was just one component identified as a possibility in a mandatory policy.
Other proposals floated at the workshop included requiring packaging to include a minimum percentage of recycled content, product bans, incentives for design with recyclability in mind, enacting a "disruptor fee" for generally recyclable products that include a contaminant and more.
Mark Murray of advocacy group Californians Against Waste pushed for better identification of recyclable products.
"Product labeling for those products that are incompatible with our fantastic recycling infrastructure, you've got to put that front and center," he said.
Steve Alexander, executive director of the Association of Plastic Recyclers (APR), said properly identifying products' recyclability and pushing for recyclability in product design would go a long way in reducing contamination.
"Labeling of what is recyclable and what is not recyclable is so critical, I can't emphasize that enough," he said.
Still, labeling can be complicated, particularly when products become label-saturated. Justin Lehrer of Stopwaste, a public Alameda County recycling agency, brought up the potential for trouble with the "myriad of labels that can occur."
"Labeling needs to be approached in a really thoughtful way," Lehrer said.
One point came up again and again: Without effective enforcement, any new regulation is practically pointless.
"If you don't enforce it, companies are going to be playing enforcement roulette, which is what they've been doing with the (rigid plastic and packaging container) law," Alexander said.
2020 approaches
Some panelists said 75 diversion is only possible with EPR.
"It's not a magic formula – because in Europe, it took us since 1994 when we started first talking about this, and it's only now that we're seeing good results," Schembri said. "So the journey, it's long, it's difficult, and it takes time. But I cannot see California trying to make high targets and achieve them without EPR."
But others pointed out the approaching 2020 deadline for the diversion rate goal.
"Even if you get aggressive, you start some sort of regulatory process a year from now, I don't see any significant change in EPR helping to get to 75 percent by 2020," Helget said. Instead, he advised improving existing recycling programs – EPR and otherwise – to boost the diversion rate in the short term.
Eddie Westmoreland, vice president of governmental affairs for Waste Connections, said working to pass more recycled-content legislation, boosting product recyclability labeling, creating more end markets and encouraging product redesign could help the state achieve its goal. But a full management program is unnecessary and potentially harmful to existing collection and processing, he said.
"EPR, if used well and as a good tool in the toolbox, can be very effective at helping us," he said. "It could be for hazardous materials, toxics like (hazardous) waste, and very narrowly defined hard-to-handle (materials) like sharps that improve worker safety. And not putting the current infrastructure at risk. Let's build on the billions of dollars, literally, that have been invested in this state alone on behalf of the solid waste management industry."
Langdon, head of MMBC, countered that an EPR program would likely utilize existing infrastructure if it's efficient, because no program will want to unnecessarily spend money.