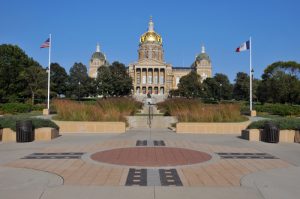 Legislative movement on a pair of bills in the Hawkeye State has drawn recycling industry interest in recent days.
The Iowa Recycling Association (IRA) recently won a sought-after amendment to one piece of legislation, while it continues to fight against another.
Bottle bill repeal
A bill that would eliminate the state's beverage container deposit program is advancing in the House of Representatives. House Study Bill 163 was given an initial go-ahead by the House Environmental Protection Committee. Now known as House File 575, the legislation has been referred to the Ways & Means Committee.
The bill would replace the container deposit program with what is described as a statewide recycling, litter control and community enhancement program. IRA opposes the bill.
Disclosure documents show that lobbyists fighting against the bill include those working on behalf of glass bottle maker Ardagh Group, reverse vending machine supplier Tomra of North America and recycling company Mid-America Recycling, which says it started in 1979 in response to the state's passage of the bottle bill.
Lobbyists in support of it include those working for the Iowa Beverage Association, Iowa Grocery Industry Association, grocery chain Hy-Vee Inc. and convenience store chain Kwik Trip.
The Des Moines Register newspaper recently published an article laying out positions from proponents and opponents.
Ban on local bans
House File 295 would prohibit local bans, taxes or other regulations on plastic bags, cups or other packaging materials. It drew opposition from the IRA.
The Iowa House of Representatives recently voted 97-0 to approve an IRA-backed amendment to the bill. The amendment says the bag, cup and packaging provisions "shall not apply to a city or county solid waste or recycling program."
The amended bill passed the House 56-41 on March 9. The Senate is now considering it.