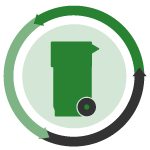 Seattle enacts another plastic bag ban, and a stick-on label could change the look of the aluminum can.
Compostable in Seattle: The Seattle City Council unanimously approved a ban on green- and brown-tinted non-compostable bags. The City says those bags are misleading and contaminate the organics stream.
The same, but different: The head of AMERIPEN recently shared her opinions on the circular economy and sustainable materials management on environmentalleader.com. Kyla Fisher writes that both models must be understood fully before they can be used together to their maximum potential.
Labeling possibilities: International labels company UPM Raflatac has developed a thin, stick-on label for aluminum cans, reports labelsandlabeling.com. The labels don't interfere in the recycling process and are more cost-efficient for companies that want to can small batches of product.
Recycling on the rise: The number of cartons recycled in Europe continues to grow, says Recycling International. The rate hit 44 percent in 2015, up 1 percent from the year before.
Bills signed: California Gov. Jerry Brown signed bills requiring beverage brands to report their recycled plastics use and extending plastics recycling subsidies for one year. Brown on Sept. 30 approved Assembly Bill 2530, which mandates reporting of post-consumer PET usage by drink makers. On Sept. 22, he approved Assembly Bill 1005, which extends the Plastic Market Development Payment program until Jan. 1, 2018.
Ditching the blue bin: The City of San Antonio is seeing a slight increase in people who are opting out of curbside recycling services, notes the San Antonio Current. On July 1, the City started fining people $25 for placing contaminants in the recycling bins. The City says it's unclear whether the carts were returned because of the new rules.