A labels provider is selling a pressure-sensitive option that cleanly separates and floats during the PET recycling process. Meanwhile, a chemical company unveiled two recycling-friendly shrink sleeve label products.
Pressure-sensitive offering
Lightning Labels, which prints labels for manufacturers, announced on May 14 it is selling CleanFlake Labels, a material provided by Avery Dennison.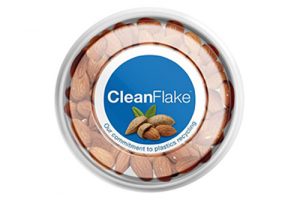 Pressure-sensitive labels can prove problematic in the PET recycling process when their adhesives fail to separate from plastic, inks bleed and facestocks sink with PET flakes.
CleanFlake, which can be used on bottles or thermoforms, uses a water-based adhesive that cleanly separates from the PET flakes in the hot caustic wash, according to a press release from Lightning Labels. The label then floats in the float-sink tank, the inks won't bleed, and the adhesive won't disperse into the PET.
"For printers, CleanFlake labels are a plug-and-play solution that works with all current printing techniques, giving the look and feel of conventional paper and film facestocks that consumers are already familiar with," according to the release.
In December 2017, the Association of Plastic Recyclers (APR) recognized Avery Dennison's CleanFlake Pressure Sensitive Label Construction as meeting APR's critical guidance for recyclability (Disclosure: APR owns Resource Recycling, Inc.). According to the letter, the label reviewed was a biaxially oriented PP film with an SR3010 emulsion acrylic adhesive.
Sleeve label innovations
Eastman unveiled a portfolio of recycling-friendly shrink sleeve label options for PET bottles. The portfolio is called Eastman Embrace.
Shrink-sleeve labels can also present problems in PET bottle recycling. Similar to pressure-sensitive labels, they can fail to separate from the flakes, stain wash water and flakes, and follow PET out of the float-sink tanks.
Kingsport, Tenn.-based Eastman Chemical announced the availability of Encore copolyester, a clear, crystallizable shrink label film that can be recycled alongside PET flakes; and Float copolyester, an opaque film that floats in float-sink tanks.
The company also highlighted the SunLam De-seaming Adhesive developed in conjunction with Sun Chemical. The adhesive allows a shrink label to detach from the bottle in the whole-bottle wash. Plastics Recycling Update in February 2018 wrote about the release of the de-seaming adhesive, which is being used on a multivitamin bottle. In March 2017, APR gave Sun Chemical a Responsible Innovation Acknowledgement for its SunLam ADHA100 deseaming adhesive applied to PETG sleeve labels.
Encore and Float are described by Eastman as new resin products. APR recognized both of them as meeting its critical guidance protocol in a December 2018 letter.
Eastman debuted the products at the Sustainable Packaging Coalition (SPC) Impact conference in Seattle in April.
To receive the latest news and analysis about plastics recycling technologies, sign up now for our free monthly Plastics Recycling Update: Technology Edition e-newsletter.
More stories about technology