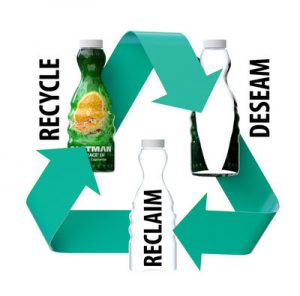 Two chemical companies have unveiled a full-wrap shrink sleeve label that comes off during a whole bottle wash. The development is part of a wider industry trend around recycling-friendly PET label strategies.
Parsippany, N.J.-based Sun Chemical and Kingsport, Tenn.-based Eastman Chemical collaborated to develop a PETG shrink-sleeve label with an adhesive that detaches during the bottle wash. The partners are using Sun's SunLam De-Seaming Adhesive on the Eastman Embrace LV copolyester label film.
Sun's specially designed adhesive releases under conditions found in the first bottle wash step at the beginning of many PET recycling processes. This deseaming strategy allows the label to come off before the container goes into the optical sorter, grinder, wash tank or dryer.
Traditional full-wrap shrink sleeve labels are essentially "welded" using a solvent. That makes labels particularly difficult to remove in wet front-end recycling processes, opening the door to problems later in the process. The result is lower PET yields for the reclaimer.
In March 2017, the Association of Plastic Recyclers (APR) gave Sun Chemical a "Responsible Innovation Acknowledgement" for its SunLam ADHA100 deseaming adhesive applied to PETG sleeve labels. The adhesive was tested on the Eastman Embrace LV film in whole bottle wash equipment at commercial recycling facilities. The result was almost all labels were removed.
Sun and Eastman announced the availability of their label with a Feb. 15 press release.
The deseaming technology was one of a number highlighted in an article in the February edition of Plastics Recycling Update magazine. The article explores how shrink-sleeve labels can be problematic for reclaimers, and it also describes recycling-friendly approaches that are being rolled out as well as why they haven't been adopted by brand owners faster.
Among the recycling-friendly shrink sleeve options, the most common approach is a floatable, polyolefin-based label. The idea is the label film will float and separate from PET flakes in float-sink tanks, which are in wide use among North American PET reclaimers.
Another approach is a crystallizable PET copolymer film with special inks that wash off and can be filtered out of wash water. With this technology, the label film follows PET to the bottom of a float-sink tank, but the film plastic in these solutions is specially designed to allow it to be recycled alongside PET flakes.
APR recently developed a chart exploring the tradeoffs among all the major label types.
Photo credit: PRNewsfoto/Eastman
More stories about technology
To receive the latest news and analysis about plastics recycling technologies, sign up now for our free monthly Plastics Recycling Update: Technology Edition e-newsletter.