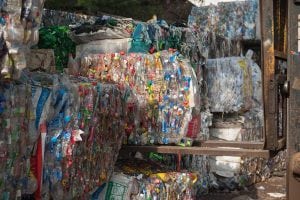 The Chinese government plans to levy a 25 percent tariff on scrap plastic, as well as a number of virgin plastics and all recovered paper, in retaliation for the latest U.S. tariff proposals.
China's Ministry of Commerce on Aug. 8 issued the latest list of tariffs the country is planning to implement on goods from the U.S. starting next week. The list identifies scrap PET, PE, PVC, PS and other plastics among the product codes that would be hit with the 25 percent duty.
The inclusion of scrap plastic will have less impact on U.S. exports than it would have a year ago, because most of that volume has already been curtailed by separate Chinese government import restrictions.
The tariff codes named in the list would cover all scrap plastic, of which about 30.2 million pounds were exported from the U.S. to China during the first half of this year. During the first half of 2017, the U.S. sent 379.3 million pounds of scrap plastic to China. Still, despite the reduction, China remains among the top importers of U.S. scrap plastic.
Prime plastics targeted
The action also covers a handful of virgin resins, as well as recovered fiber and a number of scrap metals.
Among the virgin plastics that will be hit with duties is HDPE. The U.S. shipped 300,000 metric tons of HDPE to China last year. The list also adds linear low density polyethylene (LLDPE), of which 130,000 metric tons were exported to China last year.
For virgin plastics producers, "this new list will hit where it hurts," said Kailin Fu, associate director of polyolefins and engineering plastics for IHS Markit Chemical.
The virgin impact is important for the recycling industry because recycled plastic prices often follow virgin resin trends. A number of virgin plastics production projects are currently planned or in progress. Experts have predicted they will keep prime prices low in the coming years, putting downward pressure on recycled resin prices.
But the tariffs threaten to disrupt that dynamic. The North American PE market has about 7 million metric tons of new capacity slated to come on-line by 2022, and those projects were initiated before the tariffs were in the picture.
"The U.S. market cannot absorb all this 7 million tons of new capacity. It has to be exported," Fu said. "And China was supposed to be one of the biggest receivers."
Trade war backdrop
The tariffs, which cover a wide variety of product categories in addition to recyclables, cover about $16 billion in U.S. goods. They are scheduled to take effect Aug. 23, the same day the U.S. plans to enact tariffs on $16 billion in imports from China.
Both countries in July enacted tariffs covering $34 billion in imports from the other country.
China's latest announcement comes one day after the U.S. Trade Representative's office finalized its $16 billion list, which will bring U.S. tariffs on Chinese imports up to covering $50 billion in import value.
Although previous tariffs have affected the recycling industry through steel and aluminum pricing and availability, or by their impact on recycling equipment, the new proposal from China marks the first instance of recovered plastic and paper being targeted directly.
Photo credit: somsak suwanput/Shutterstock
More stories about expots