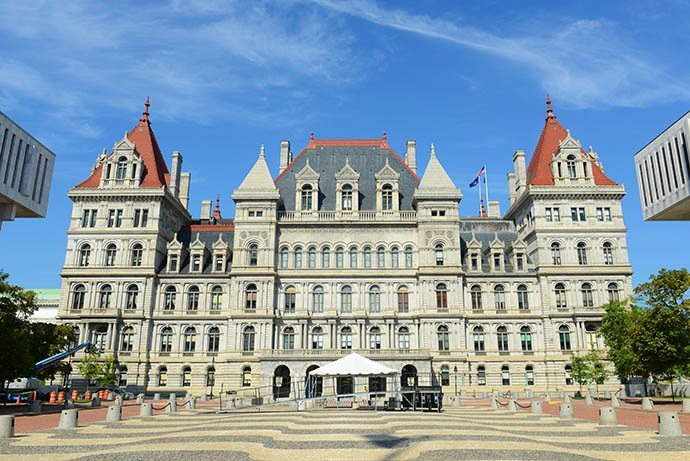 New York's governor has introduced legislation prohibiting retailers from providing plastic shopping bags to customers at point-of-sale.
The bill, S8257, was introduced by the Committee on Rules in both the state Assembly and Senate April 23, at the request of Gov. Andrew Cuomo.
"The blight of plastic bags takes a devastating toll on our streets, our water and our natural resources, and we need to take action to protect our environment," Cuomo said in a statement.
If passed, the ban would take effect Jan. 1, 2019. It exempts plastic bags used to hold meat, produce, bulk items and a handful of other products.The New York bill is now in committee in both the state Assembly and Senate.
The proposal drew sharp criticism from the American Progressive Bag Alliance, a project of the Plastics Industry Association.
"Unfortunately, this misguided proposal would result in a massive, multi-million-dollar hidden tax on hardworking New York families," said Matt Seaholm, executive director of APBA, in a statement to Plastics Recycling Update. "Bans tried elsewhere have made it harder for families to pay for groceries while also incentivizing shoppers to use bags that are worse for the environment than 100-percent recyclable, highly reused plastic retail bags."
In 2014, California became the first state to pass a statewide prohibition on plastic bags. After being challenged, that law was backed up by voters in 2016. Hawaii also has a de facto ban on bags, with all of the state's counties having bag ban policies in place.
Other states, meanwhile, have passed legislation that moves in the opposite direction, prohibiting bans at the local level.
Governor had opposed bag fee in NYC
The New York ban proposal follows a report released early this year that examined the impact of single-use plastic bags on the environment in New York.
Among other factors, the report analyzed disposal costs for plastic bags annually in New York City. It found that "single-use, carry-out bags account for 1,700 tons of residential garbage each week, which equates to 91,000 tons of plastic and paper carry-out bags each year and presently costs the city $12.5 million annually to dispose of this material outside the city."
The report was completed by a task force commissioned by Cuomo, who last year signed legislation placing a moratorium on any local bag fee taking effect, shortly before a New York City fee was slated to begin.
When he signed the fee ban, Cuomo issued a statement agreeing that plastic pollution was a problem, but a statewide problem rather than a local one. He also called the local proposal "deeply flawed," and he convened the task force to come up with a statewide plan.
The report identified several steps the city could take to reduce the impact. Besides a legislated statewide bag ban, the suggested options included strengthening existing bag laws that promote reuse and waste reduction, implementing extended producer responsibility on bag manufacturers, a variety of types of bag fees, or continuing without making policy changes.
Cuomo opted to introduce a ban.
Currently, 10 municipalities in New York have bag bans in place. New York City adopted a 5-cent-per-bag fee in 2016, but its implementation has been delayed multiple times.
New York lawmakers have previously looked at bag fees and other bag-related legislation, including a proposal that would have permanently blocked New York City's local bag fees.
Photo credit: jiawangkun/Shutterstock
More stories about legislation