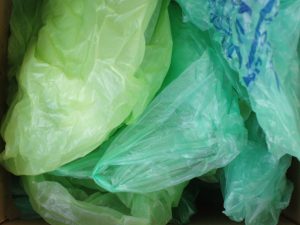 The New York State Legislature voted to delay the implementation of a 5-cent-per-bag fee in the nation's largest city.
The Assembly on Tuesday joined senators in opposing the New York City bag fee, scheduled to go into effect Feb. 15. City officials see the fee as a way to get consumers to use reusable totes, rather than thin plastic and paper bags.
The dispute between state and city officials is no surprise. Last June, after a similar disagreement over the bag fee, city leaders agreed to delay the fee's implementation from October 2016 to February. The goal was to rework the city's legislation to appease the legislature's concerns.
But Assembly leaders say the city was unwilling to compromise on the bag fee, according to the New York Daily News. With the fee slated to go into effect next week, the Senate voted 43-16 Monday to pass Senate Bill 4158, again delaying the bag fee implementation, this time for an entire year. On Tuesday, the bill was passed by the Assembly on a 122-15 vote. Now it goes to Gov. Andrew Cuomo's desk for a final decision.
City officials have criticized the state's actions affecting the bag charge. The Daily News reported that a City Council spokesperson blasted the delay as doing nothing except to "ensure single-use plastic bags will continue to overwhelm New York City's landfills."