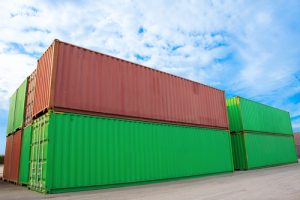 The future of recovered materials exports to China remains hazy, but the Institute of Scrap Recycling Industries (ISRI) made a few things clear after a recent trip to Hong Kong and Beijing.
A rumored ban on scrap commodities imports would be a separate initiative from the current quality enforcement campaign known as National Sword. There has also been a recent leadership change at the Chinese Ministry for Environmental Protection, which may play into future plans. And the government agency overseeing scrap trade is revising a key regulation detailing scrap-trading requirements.
"Things are moving very rapidly in China," Robin Wiener, president of ISRI, said in a June 13 press conference call.
Despite all the activity and its bearing on the U.S. scrap industry, official confirmation has been hard to come by. Rumors have been rampant in absence of confirmed details. Hoping to change that, ISRI leadership met with Chinese officials in Beijing to glean solid information.
Roughly a third of the scrap material collected in the U.S. is shipped overseas, and China is by far the largest destination country.
Scarce specifics
The most recent rumor has been a potential ban on importing scrap commodities into China. Although it's not yet clear what exactly that would entail – and Chinese officials refuse to provide clarity – ISRI believes official news may be released during the first two weeks of July.
Meanwhile, National Sword continues to impact the commodity flow into China, impeding plastic and paper exports. Although experts have likened the enforcement effort to 2013's Green Fence crackdown, the rumored materials ban sounds like new territory, according to ISRI.
"Although all of us tend to (align) National Sword with this potential ban, it appears that they are really very different," Wiener said. "National Sword is really focused on quality concerns and smuggling, whereas the import ban appears to be not driven by an issue of quality concerns" but by a move to build up the domestic Chinese materials recovery industry.
Wiener said the ban, if enacted, could be an effort to "spur domestic generation of scrap." In early May, Chinese officials released an action plan to boost the country's recycling industry, according to state media. The announcement did not describe specific actions that would be taken toward that goal.
The only official indication of an import ban came from a meeting of a Chinese committee called the Central Leading Group for Deepening Overall Reform, which is headed by Chinese President Xi Jinping. The committee met in April, and a meeting summary reported in Chinese state media said the group would work to "significantly" reduce the "categories and volume of waste imports" into China.
Steve Wong, chairman of plastics recycling company Fukutomi, has also provided updates to the Bureau of International Recycling and U.S. trade media on the status of imports into China since National Sword began in February of this year. Wong reported on the committee meeting in a late April update.
Following the committee meeting there was some confusion, Wiener said, over whether the intent was to restrict "waste" or scrap materials, since they are referred to with the same word in Chinese. But while ISRI was in Hong Kong, its leadership learned the Chinese committee was indeed referring to recovered scrap commodities.
At that point, "we immediately started trying to investigate this issue and find out all we could, to help our members and to gather information and hopefully also effectuate a change," Wiener said.
To the source
During the trip abroad, ISRI staff learned the Chinese Ministry of Environmental Protection would take the lead in drafting the new regulations that would create the banned imports list, according to Adina Renee Adler, ISRI's senior director of government relations and international affairs. When the ISRI committee traveled to Beijing and met with Chinese officials, ISRI described to those officials the current impact of National Sword on the U.S. scrap industry and broached the rumors of wider bans.
Rumors have described a phased approach to commodity bans, rolled out over several years. Adler stressed those possibilities are not based on official information, but rather rumors among ISRI members and scrap traders.
The group later met with the General Administration of Quality Supervision, Inspection and Quarantine, which regulates commodities flowing into and out of China. The group learned that agency is revising "Regulation 119," which sets the requirements for sending scrap commodities into the country.
As for the Chinese response to the rumors, Adler said there was "no comment specific to the rumors on a ban, although maybe body language gave us some indication that there is talk of it." Officials also would not comment on whether the Regulation 119 revision is related to National Sword or a materials ban, Adler said.
ISRI further learned there was a recent leadership change at China's environmental protection ministry, although Adler said there are conflicting reports on whether that change is impacting the scrap-trading issues.
Besides the Chinese government, ISRI officials met with the U.S. embassy in Beijing and the U.S. departments of Commerce and Treasury, which are the lead U.S. agencies in the wider U.S.-China Comprehensive Economic Dialogue.
Preparing for the worst
Joe Pickard, ISRI's chief economist, said exporters are looking to other countries for export opportunities in case of a full materials ban.
"The difficulty is that China has been such a disproportionately large home for scrap exports from the United States, so it's really difficult to replace China with just one country," Pickard said.
Scrap exporters are looking at other countries spread out over many regions to replace certain sectors of the export market, Pickard said. He pointed to regions that have seen recent growth, including Southeast Asia, the Middle East, Latin America, as well as the Asian subcontinent including Bangladesh, India and Pakistan.
"Some of all these other growing economies, I think, will help to take in some of the slack," Pickard said.
More stories about exports