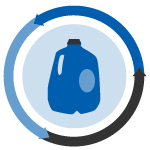 Major brands fund a recycling outreach campaign to thousands of students, and prices increase for recovered PET and HDPE.
Problematic plastics: The Hefty Energy Bag program, which is collecting difficult-to-recycle plastics for use as a fuel in cement kilns, may be expanded. Plastics News reports the organizers of the program, which is currently limited to the Omaha, Neb. area, envision expanding it across the country.
In the money: Alongside other recyclable materials, some types of recovered plastics have seen significant price upticks lately. Market reports show the value of recovered HDPE containers went up 5 cents per pound in recent days and PET grew about a penny per pound.
EPA chief: A poll from a sustainability marketing firm suggests the public is less trusting of the U.S. EPA under the leadership of Scott Pruitt. Shelton Group reports its poll showed 84 percent of its newsletter respondents said they trusted the EPA in the past for facts about the environment and climate, but that number is down to 22 percent now that Pruitt is EPA administrator.
Education effort: Several major brands are partnering to fund an integrated recycling education and awareness campaign in Flint, Mich., according to national nonprofit group Keep America Beautiful (KAB). Funded by Coca-Cola, Nestle Waters North America, the PepsiCo Foundation and the Wal-Mart Foundation, the project will reach all 10,000 school students in Flint.
Market for EPS: More than 15 tons of recovered EPS have been used to make 20,000 construction blocks for a new mall in Cape Town, South Africa, according to a press release from Greenlite Insulated Concrete and the Polystyrene Packaging Council of South Africa. Expected to open this fall, the Table Bay Mall includes 20,000 Greenlight Concrete blocks, primarily for use on the fire escape passages because of their excellent fire ratings.
Shift in support for deposits: In a departure from the beverage giant's long-standing position, Coca-Cola has announced its qualified support for a container deposit program in the United Kingdom. The company said in a statement that "the time is right to trial new interventions such as a well-designed deposit scheme for drinks containers, starting in Scotland, where conversations are underway."