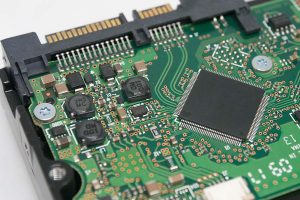 This article has been corrected.
Metech Recycling, which operates five U.S. sites and encountered CRT storage issues recently, has been acquired by a group of investors associated with First America Metal Corp.
The transaction makes Metech Recycling and Illinois-based First America Metal affiliated companies, allowing them to form "a very powerful alliance" building on each of their strengths, said Les Bury, president of First America Metal.
"To me, it's the value of having a full solution for the supply chain that these two companies together can bring, and that's really the strength to it and the purpose behind it," he told E-Scrap News.
With locations in five states, Metech Recycling was the U.S. e-scrap arm of publicly traded Singapore company Metech International. Metech Recycling has locations in Clinton, Mass.; Creedmoor, N.C.; Denver; Gilroy, Calif.; and Salt Lake City.
The investor group, called First America Management Group, bought all the stock of Metech Recycling for $300,000, Bury said. The final paperwork was signed Feb. 19.
The move takes a money-losing business off the hands of Metech International. Though it brings ITAD expertise into the fold for First America Metal, the acquisition also puts the company in charge of an operation that has attracted the attention of regulators in recent years for accumulating CRT glass.
Acquiring the company
Metech International for decades had e-scrap locations in Asia and the U.S. The electronics processing business was originally formed to feed Metech's metals refining interests.
Of late, Metech Recycling began to struggle for multiple reasons, with company leaders citing high operating costs, tight competition, international trade restrictions, hazardous waste enforcement by California regulators, and more.
The e-scrap business ran at a loss in 2015, 2016 and 2018, and Metech International leaders began looking to sell it. Last fall, Metech International executives Andrew and Simon Eng – along with Simon's wife, Hau Chan Yen – agreed to take the struggling business off the publicly traded parent company's hands for about 75 cents.
Before the deal was finalized, however, First America Metal in November signed a letter of intent to purchase the U.S. operations, according to a Metech press release.
Bury explained that First America Metal's owner and CEO, James Li, joined with other investors to form First America Management Group for the purpose of acquiring Metech Recycling. Li is the primary shareholder of First America Management Group.
Separately, Metech International in January sold its Malaysia e-scrap subsidiary to that operation's general manager, according to The Business Times newspaper. The manager, Lau Chin Guan, paid 45,000 Singapore dollars (about $33,400 U.S.).
Simon Eng confirmed to E-Scrap News that Metech International has exited the e-scrap business with the offloading of the U.S. and Malaysia subsidiaries. It still has a supply chain management business.
"We intend to focus on our supply chain management business for the time but are open to exploring new business sectors if opportunities avail themselves to us," he wrote in an email.
CRT struggles in Colorado
Bury said the $300,000 purchase price for the U.S. e-scrap assets reflects Metech Recycling's intangible value in its team, contacts and locations served. However, on a pure assets basis, company liabilities offset the value of equipment, he said.
State records show Metech ran afoul of the federal CRT rule in Colorado last year. The regulation aims to prevent speculative accumulation by requiring at least 75 percent of CRT glass be shipped for recycling each year or else it's regulated as hazardous waste.
Metech Recycling has locations in Clinton, Mass.; Creedmoor, N.C.; Denver; Gilroy, Calif.; and Salt Lake City.
A July 2018 inspection by the Colorado Department of Public Health and Environment found that over the past three years the Denver facility had a CRT glass material turnover rate averaging 73 percent. Inspectors found glass in boxes dating as far back as 2015 and 2016. In response, Metech Recycling submitted a plan and began moving more glass to Technologies Displays Americas (TDA)/Glassico Displays America.
Rex Cheng, who has been president of Metech Recycling and will remain in that role, said the company has shipped "a huge quantity" of CRT glass in the last month or two. Most was stored at Metech's Creedmoor, Denver and Salt Lake City facilities, he said. He estimated a quarter or more of the weight has moved downstream. Glass from Colorado and Utah is going to Glassico, and material from North Carolina is heading to Ohio-based Novotec Recycling, Cheng said. Novotec sends processed glass to Glencore's lead smelter in New Brunswick.
Metech Recycling had accumulated quite a bit of glass, Bury said, declining to state a figure. The glass was supplied by a number of businesses, municipalities and government agencies. One of those, although it wasn't the major contributor, was Manufacturers Recycling Management (MRM), a group that works to fulfill electronics manufacturers' obligations under state extended producer responsibility laws, he said.
Bury and Cheng noted Metech Recycling no longer has the MRM contract.
In shipping glass out, Metech Recycling is going through inventories to ensure older material is removed, not just the most readily available glass, Bury said.
"We're focused on it from a space utilization [standpoint] and being able to leverage the footprint as an asset, as opposed to just having it be a storage warehouse or something we're not being paid to store," he said.
Opportunity for business cohesion
Before the acquisition, Metech Recycling was already a longtime business partner with First America Metal, which has primary processing locations in Morris, Ill., and Fort Worth, Texas, totalling about 400,000 square feet. First America focuses on metals recovery, differentiating itself with product knowledge and advanced trading systems, Bury said.
Bury said the companies are not merging and will continue to operate independently. But he pointed to market advantages to them working together closer.
Metech Recycling has strength in its brand and reputation, OEM contracts and processing technology, Bury said. It excels in the ITAD/ITAM realm providing services for fees. But a majority of weight handled in that business still ends up as scrap bound for commodities recovery, however, leaving Metech Recycling reliant on downstreams such as First America Metal.
Bury added that from a geographic perspective, the alliance improves both companies' nationwide service footprint, helping them compete for contracts with national insurance companies, OEMs, banks and other businesses.
Cheng noted the companies' abilities complement each other.
"Now we have it all in one company, so we have great synergy," he told E-Scrap News.
Before the acquisition, Metech Recycling had reduced its staffing levels. Cheng said that now that the company has an owner who would invest in it, the objective is to grow. Metech Recycling has started hiring back former employees – he estimated a current headcount of 80 to 90 people.
Both Cheng and Bury said that the company maintained key customers, despite past cutbacks.
"Even though we were in a down period, our clients were still with us," Cheng said, "because we still fulfilled, at the minimum, all of the contract obligations."
This story has been corrected to make clear that MRM was one of many suppliers of CRT glass to Metech and was not the major contributor. 
Photo credit: peatja/Shutterstock
More stories about processors