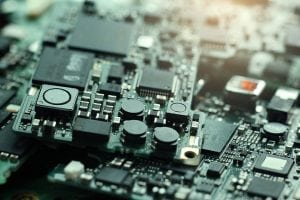 Metech International will jettison its e-scrap recycling business, citing financial losses caused by hazardous waste compliance issues and other challenges.
The Singapore-headquartered company announced it signed a conditional purchase and sale agreement on Sept. 18 for its entire electronics recycling business, which consists of five U.S. facilities and one Singapore location.
Metech International plans to sell the business to two of its own leaders for 1 Singapore dollar (about 75 cents U.S.). An independent company determined the business is worth $0.
The buyers are investment holding company Belle Forte Limited and Andrew Eng. Belle Forte is owned by Simon Eng and his wife, Hau Chan Yen. Simon Eng is chairman and executive director of Metech International. Andrew Eng is CEO and executive director of Metech International, and he serves as the head of the company's largest subsidiary, Metech Recycling in the U.S. The men are brothers.
Metech Recycling has U.S. operations in Clinton, Mass.; Creedmoor, N.C.; Denver; Gilroy, Calif.; and Salt Lake City.
Environmental issues and financial losses
In announcing the sale, the publicly traded Metech International cited a number of problems challenging its electronics recycling business.
For the 2018 fiscal year, which ended June 30, its electronics recycling operation saw revenue of 28.2 million Singapore dollars (about $20.6 million), an 11 percent decrease from the year before. The business lost 600,000 Singapore dollars (about $440,000).
The company cited challenges with hazardous waste control laws at its U.S. Metech Recycling facilities, especially its processing location in Gilroy, Calif., where the company shreds material and recovers metals. E-Scrap News reported in early June that California prosecutors accused the company of multiple violations of hazardous waste laws at the Gilroy plant. Company officials said they were working with the California Department of Toxic Substances Control to resolve the matter.
According to a company financial filing, a U.S. factory shutdown, caused by an environmental violation, led directly to financial pain in the e-scrap business. Revenue during the fourth quarter fell 36 percent year over year, resulting in the full-year decrease of 11 percent.
"While a major part of U.S. operations ceased to generate revenue, costs had remained high due to an increasingly more difficult operating environment in the U.S.," according to the filing.
Additional factors
Metech International cited other challenges, as well.
According to its sale announcement, the company has not been able to secure operating licenses from Malaysian authorities for a processing facility it set up in Penang, Malaysia in April 2017. The facility "was set up with the intention to cater to local needs as well as its multi-national corporation customers," according to Metech International.
In the company's 2017 annual report, Simon Eng wrote that company leaders expected to be able to secure those permits by the end of 2017.
The company also cited ongoing global trade disputes as contributing to uncertainty in the market. In particular, the continuation of the U.S.-China trade war would cause harm to Metech's Electronic Waste Management (EWM) business. And various countries' restrictive import policies for e-scrap have made it more challenging to operate the EWM business, the company noted.
Metech International's EWM business also lost money in 2015 and 2016.
"Despite the company turning in a profit in FY2017 after two previous years of losses, it shows that there are still major challenges facing the company, primarily, the strict environmental regulations, high costs and stiff competitions affecting the EWM business in U.S. and Singapore," the filing states.
Metech's U.S. sites no longer have e-Stewards certification, as a result of non-conformities discovered during an audit, an e-Stewards representative told E-Scrap News in June. The e-Stewards representative said Metech was working to correct the issues, but if it couldn't do so by a deadline set by the third-party certification body, its certificates would be withdrawn.
Earlier this year, Metech Recycling had its R2 certification suspended for all its U.S. locations. The certification was reinstated for all of Metech's U.S. sites as of August 28, according to Sustainable Electronics Recycling International (SERI).
After the sale, Metech International would still have its supply chain management services business, which brings in more than twice the revenue of its e-scrap business but has also suffered financially, the financial filing shows. It noted Metech intends to expand the business, which requires lower fixed-asset investment and has a lower running cost than the e-scrap business.
Photo credit: Teerasak Ladnongkhun/Shutterstock
More stories about processors