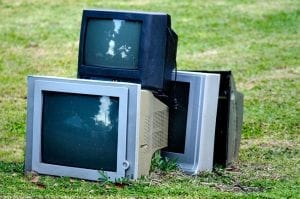 Federal charges have been filed against the owner of an Iowa e-scrap company, marking the latest of several legal cases related to the company's alleged improper storage of CRTs and other e-scrap.
The U.S. Attorney's Office for the Northern District of Iowa on July 25 charged Aaron Rochester, owner and operator of Recycletronics, with one count of unlawful storage of hazardous waste and one count of transporting hazardous waste.
Rochester was arrested and released late last month. In his initial appearance during a Sept. 25 court hearing, Rochester pleaded not guilty to the charges. The case is in U.S. District Court in Sioux City.
Rochester's attorney did not return an E-Scrap News request for comment by press time.
E-Scrap News first reported on the Sioux City, Iowa company's stockpile issues in February 2017, when months of investigation by state agencies led regulators to suspend the company's license to accept CRT devices. Recycletronics shut down in early 2017.
By mid-2017, federal regulators had joined state agencies in putting pressure on Rochester to clean up Recycletronics' stockpiles, which allegedly totalled roughly 17 million pounds of CRT glass and intact CRT devices stored across six sites. Inspectors described "widespread lead soil contamination due to broken leaded glass disposed of on the ground," according to state documents.
The U.S. EPA took interest due to potential violations of the Resource Conservation and Recovery Act (RCRA), a federal law regulating management of various types of waste. The recent charges are based on the EPA's investigation into those alleged violations. The grant jury indictment alleges Recycletronics stored "significant amounts" of CRTs and CRT glass without obtaining proper permits or complying with storage regulations.
The trial date had been scheduled for Nov. 5 but was pushed back to Feb. 4, 2019, on a motion by Rochester's attorney, who cited the need for more time to review the large volumes of information related to the case.
According to prosecutors, Rochester faces a possible maximum of five years in prison, a maximum fine of $50,000 per day of each violation, and supervised release.
A separate civil case is playing out at the state level. During a hearing in August 2017, Iowa state regulators agreed to hand the case over to the state's attorney general, who filed suit against Rochester in January 2018. The lawsuit alleges Recycletronics falsely claimed to be in compliance with speculative accumulation regulations on CRT glass. That case is ongoing.
Photo credit: ChameleonsEye/Shutterstock
More stories about courts/lawsuits