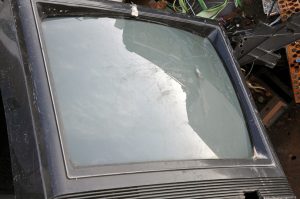 State officials are suing an Iowa electronics recycling operation accused of stockpiling and improperly managing millions of pounds of CRTs.
The Iowa Attorney General's Office filed suit against Recycletronics, a Sioux City, Iowa-area e-scrap company that closed last year. The state seeks civil penalties and financial payments, claiming Recycletronics stockpiled nearly 17 million pounds of CRTs and other electronics since 2013.
The business "collected waste disposal fees and then illegally stored or disposed of millions of pounds of electronic components, including hazardous waste," the attorney general said in a Jan. 8 news release.
Iowa officials say Recycletronics falsely claimed it was in compliance with speculative accumulation regulations. Under the federal government's CRT Rule, 75 percent of CRT material acquired by an entity must be recycled or transferred to a different site for recycling during the calendar year.
At at least one unpermitted storage site, Recycletronics delivered boxes of glass that were later dumped out and burned, the lawsuit alleges. Any metal content was removed and the remnants were dumped on the ground. The U.S. EPA, which has been monitoring the company's sites in recent years, estimates that nearly 1.2 million pounds of leaded glass is mixed in with the soil at that unpermitted location.
At another site, nearly 3.4 million pounds of crushed leaded glass was stored on a concrete pad, and nearby soil and water tests showed the presence of lead.
Eight storage locations
Recycletronics, which closed its doors in mid-2017, used Closed Loop Refining and Recovery and Technologies Displays Americas as its downstream outlets, according to the U.S. EPA. Closed Loop collapsed in 2016 after amassing the largest known U.S. CRT stockpiles in history.
According to the court documents, Recycletronics is connected to two permitted facilities and six unpermitted sites. Several of the unpermitted storage locations date back to 2013. State officials with the Department of Natural Resources (DNR) and inspectors with the U.S. EPA showed up unannounced at several of these facilities in December 2016 for inspections, during which they observed the alleged violations.
Shortly after the 2016 inspection, Regulators declined to renew Recycletronics' CRT collection permit until it cleaned up the material. Over the following months, the state issued various notifications that the business had not yet come into compliance and threatened further regulatory pressure.
Today, an estimated 12.4 million pounds are in Sioux City, Iowa and 4.5 million pounds are in South Sioux City, Neb., according to the lawsuit. The court filing does not indicate what percentage of that figure is CRTs alone. The state estimates cleanup costs will total a minimum of $1.5 million.
Attorney general steps in
In August, state regulators with the DNR handed the case over to the attorney general for enforcement of alleged violations that would fall under state jurisdiction.
In a lawsuit filed Jan. 8 in the Woodbury County District Court, the Attorney General's Office seeks daily fines from Recycletronics and company owner Aaron Rochester up to $5,000 as long as the violations continue. The state wants a "permanent injunction" against Rochester from any more similar violations, and it wants the court to compel him to remove and properly dispose of the remaining materials at the storage sites. The attorney general also seeks a judgment of more than $75,000 to settle a state solid waste business development loan on which Recycletronics has stopped making payments.
Rochester could not be reached by E-Scrap News for comment. He responded to the court filing in an interview with the Sioux City Journal, stating he understood the state's interest in seeking civil penalties and repayment of the business development loan but questioned the decision to take legal action.
Rochester told the newspaper he has already worked with the EPA on how to resolve the situation. He and the EPA on Nov. 29 signed a consent order in which he agreed to remove and properly dispose of e-scrap from six sites, according to the court documents.
"I just don't understand why they needed to file a lawsuit when I've been so willing to work with them," Rochester told the newspaper.
More stories about CRTs