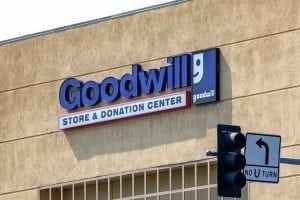 The bankruptcy of a major e-scrap processor – and wider market conditions – led a Goodwill affiliate in Oregon to stop accepting most end-of-life electronics.
Goodwill of Southern Oregon on Sept. 1 halted collection of computers, CRT devices, printers, scanners and other peripheral devices. The nonprofit organization will still accept most flat-panel displays.
Goodwill of Southern Oregon operates a number of retail stores and donation centers across four Southern Oregon counties.
In a release, Goodwill explained that the changes were spurred by economics.
"The global recycling market is changing and costs and restrictions are increasing for recycling e-waste," the release stated. "While we hope market forces in plastics and electronics recycling will change in the future, it is too costly for Goodwill to recycle e-waste under current conditions."
Recology also operates e-scrap collection in the region. A spokesperson from the company told the Ashland Daily Tidings that Goodwill's decision was based on the closure of ECS Refining, which previously operated an aggregation facility in nearby Medford, Ore.
A 2009 article in the Medford Mail-Tribune newspaper reported that ECS served as the downstream outlet for material collected at Goodwill. The newspaper recently reported 1.5 million pounds of e-scrap was dropped off each year at Goodwill locations in Southern Oregon.
Without ECS as an outlet, URT Solutions in Oregon has been inundated with material, according to the Daily Tidings. URT handles most of the material for the state's program, which is called Oregon E-Cycles and was enacted through legislation in 2007.
An Oregon E-Cycles representative told E-Scrap News that the other approved vendors are California Electronic Asset Recovery (CEAR), Dynamic Lifecycle Innovations, ERI, Free Geek and Simon Metals.
ECS filed for bankruptcy in April and went out of business at the end of June. The Medford site – and a number of others across the U.S. – have since been cleaned out. Meanwhile, other e-scrap companies have been vying to win customers who formerly worked with ECS.
Fallout from the ECS bankruptcy continues elsewhere in the country as well. Dallas News in June reported that the closure led to 108 employee layoffs in Mesquite, Texas.
Photo credit: Juan Llauro/Shutterstock

More stories about collection