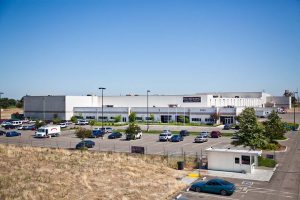 Update: On July 3, E-Scrap News reported on new developments related to this story.
One of the nation's largest e-scrap processors has filed for bankruptcy, a move the company's CEO described as a strategy to avoid being taken over by an investment partner.
Santa Clara, Calif.-based ECS filed for Chapter 11 bankruptcy on April 24 in the U.S. Bankruptcy Court for the Eastern District of California, which is located in Sacramento.
Chapter 11 bankruptcies generally allow companies to reorganize and continue their operations. The action also frees a company from the threat of lawsuits from creditors while it reorganizes.
A leader from ECS said the move is not an indication the company is shuttering.
"We're taking material in, we're processing it and we're keeping everybody working," Jim Taggart, CEO and co-founder of ECS, said in an interview.
Founded in 1980, the recycling and refining firm has been a mainstay of the e-scrap industry. It is certified to both R2 and e-Stewards and runs eight facilities in the U.S., including a 260,000-square-foot processing facility in Stockton, Calif. and a 230,000-square-foot operation in Mesquite, Texas. In 2014, E-Scrap News reported the Stockton facility had an annual throughput of roughly 110 million pounds and the Mesquite location's yearly throughput was around 35 million pounds.
The firm also has smaller sites elsewhere in California as well as in Arkansas, Ohio and Oregon.
In a statement regarding the bankruptcy, the company noted it was attempting to avoid "a forced takeover" of its operations from an investment firm.
"ECS has elected to take this step to provide the best result for ECS's employees, customers and vendors," the statement noted. "Despite ECS's ongoing strong performance, customer satisfaction, and growth in its ITAD and E-Environmental services divisions, ECS has come to an impasse with its current banking partner."
Taggart explained in the interview that ECS took out a multimillion-dollar loan with Bank of America in February 2012. Private equity firm Summit Bridge Capital, however, purchased the bank debt last year, at which point it began angling to take control of the company, Taggart says.
"From our point of view, [the bankruptcy] is purely a defensive move," Taggart said.  "They wanted us to sign the company over to them – we didn't feel that would work for us and so we were forced into a situation where the only thing we could do was file for bankruptcy."
According to Taggart, ECS has attempted to negotiate with Summit Bridge for the past year but could not find a solution. "They pulled back and said we want you to sign the company over to us and we'll do what we want with it," Taggart said.
Summit Bridge did not respond to a request for comment.
According to the April 24 filing, ECS has estimated assets of $1 million to $10 million and estimated debts of $10 million to $50 million. The firm was scheduled to appear in court for a hearing this morning.
According to Taggart, ECS has successfully come up with financing to continue its operations and it's "business as usual" at ECS sites.
"We have been growing the business and it's become a lot more diversified business in recent years," Taggart said. "And we really believe there's no better company out there than ECS – we're well-positioned to service the industry in a superior way."
More stories about courts/lawsuits