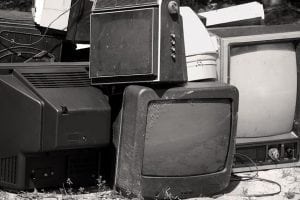 A trial is deciding whether federal Superfund law makes three South Carolina counties responsible for costs to remove CRT displays and other material abandoned by shuttered processor Creative Recycling Systems.
The case involves cleanup costs at a South Carolina warehouse that was used by Creative Recycling Systems (CRS). The company filed for bankruptcy in 2014, leaving 32 million pounds of CRT glass and other scrap electronic materials in storage across six states.
In February, E-Scrap News reported that property owners spent millions of dollars to clean up the mess, but much of the material went to e-scrap processors that ultimately closed and abandoned their own inventories.
This legal drama playing out now involves cleanup costs at a Blythewood, S.C. warehouse owned by Carolina Pines. The property owner in April 2016 filed a lawsuit against 11 cities and counties that contracted with CRS to take devices they collected. The case is in U.S. District Court for the District of South Carolina.
According to the lawsuit, CRS left an estimated 6 million pounds at the Carolina Pines warehouse, including TVs, health-care and classroom equipment, and computers with sensitive data on them. The State newspaper, based in Columbia, S.C., reported in July that the stock was cleaned out at a cost of $1 million to $1.5 million and Carolina Pines wants the local governments to repay it.
Carolina Pines' lawsuit points to various legal reasons why the landlord believes they're responsible for the abandoned material. In March, the judge threw out all of the claims except one alleging the defendants are liable for cleanup costs under the Comprehensive Environmental Response, Compensation, and Liability Act (CERCLA), or Superfund law.
Most of the defendants have settled with Carolina Pines, but the South Carolina counties of Charleston, Horry and Lexington decided to go to trial. The non-jury trial will be decided by Chief Judge Terry L. Wooten.
It began on Aug. 28 and ended on Aug. 29. Wooten indicated he would issue a ruling within the next three weeks.
Prior settlements
Carolina Pines originally sued the following public agencies in South Carolina: city of Abbeville Public Works, Abbeville County Public Works, Aiken County Solid Waste, Beaufort County Solid Waste, Charleston County Solid Waste, Horry County Solid Waste, Laurens County Public Works, Lexington County Solid Waste, city of North Augusta Public Works, Orangeburg County of Department of Public Services and Sumter County Public Works.
The defendants' attorneys denied they own or are otherwise responsible for the abandoned devices. In July, five defendants filed a counterclaim stating that while they believe they're not responsible for cleanup costs, if they're found by the court to be, they believe Carolina Pines shares legal responsibility for cleanup costs under Superfund law.
Since then, Carolina Pines and many of the municipalities have settled. Over the last two weeks, the following counties were dismissed from the case: Abbeville, Aiken, Beaufort, Laurens, Orangeburg and Sumter. According to The State newspaper, the six local governments agreed to pay Carolina Pines a combined $240,000.
Separately, the city of Abbeville had settled in 2016 for $13,500, and the city of North Augusta settled in 2017 for $11,000. At the time, North Augusta city officials said they settled because it would have been cheaper than continued litigation, not because they felt they did anything wrong.
This isn't the only recent lawsuit that claims upstream suppliers are liable for cleanup costs under CERCLA.
In September 2017, a landowner filed a federal lawsuit claiming suppliers who sent CRT glass to Closed Loop Refining and Recovery are on the hook for costs under CERCLA. That case is ongoing.
Photo credit: Cheryl Casey/Shutterstock
More stories about courts/lawsuits