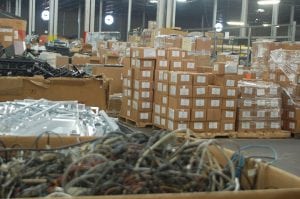 ECS Refining's Silicon Valley location may be purchased by a different processor. Meanwhile, most ECS sites in other states are expected to be cleaned out within a week.
Nationwide e-scrap processor and ITAD firm ECS closed at the end of June after filing for Chapter 11 bankruptcy in April. The company's estate is being managed by a trustee appointed by the U.S. Bankruptcy Court for the Eastern District of California.
ECS operated three sites in California, two in Oregon and one each in Arkansas, Ohio and Texas.
In court papers and during hearings, landowners have expressed concern they'd be left with hazardous materials and disposal costs, a scenario that played out when Creative Recycling Systems failed, for example. Owners of ECS facilities have also objected to any drawn-out cleanup process that leaves them unable to re-rent their properties for a significant amount of time.
At the moment, it doesn't appear major stockpiles will be left for landlords to deal with. The trustee, Reno, Nev.-based Donald Gieseke, this week reported progress in his efforts to sell ECS assets, remove inventory and clean out hazardous waste.
Still, the closure process has been costly, and the secured creditor has expressed concerns that ECS' bank account could be cleaned out before the work is finished.
Asset sale and inventory removal
During an Aug. 8 court hearing, Tom Willoughby, attorney for Gieseke, told the judge the trustee is circulating an asset purchase agreement to sell all the equipment at the Santa Clara, Calif. facility, which is near San Jose in the heart of Silicon Valley. The sale would leave the equipment in place so the facility could be restarted. Willoughby didn't disclose the potential buyer.
ECS' customer list and ITAD business inventory have already been sold in a courtroom auction to Wisconsin-based company Dynamic Lifecycle Innovations (formerly Dynamic Recycling).
In an Aug. 14 status report, Gieseke said he expects to have sites in Medford, Ore.; Portland, Ore.; Columbus, Ohio; and Rogers, Ark. cleaned out and vacated by Aug. 22. During the Aug. 8 hearing, Willoughby said crews were working to clean out the last of the inventory in Santa Fe Springs, Calif., as well.
Gieseke plans to hire US Ecology, a hazardous waste disposal company, to take barrels of hazardous waste at ECS' California facilities. Willoughby described barrels of oil, propane and solvents. US Ecology did business with ECS before it closed and is already an unsecured creditor owed nearly $32,000. Judge Robert Bardwil approved hiring US Ecology on Aug. 15. In the status report, Gieseke said the hazardous waste will likely be removed from Santa Fe Springs by Aug. 22.
Assuming the cleanups go as planned and the Santa Clara sale goes through, the two largest ECS facilities, in Stockton, Calif. and Mesquite, Texas, would remain to be dealt with. Those properties are owned by Ken and Jim Taggart, who founded ECS in 1980 and retain ownership in the debtor.
Wheels are already in motion to clean them out. "The Trustee is in the process of making arrangements for the removal and disposal of the inventory located in the Debtor's Mesquite, Texas and Stockton, California facilities," according to the status report.
Spending concerns
The secured creditor for ECS has expressed concerns the close-down activities are drying out ECS financial reserves.
Since the trustee was appointed in May, Judge Bardwil has approved a number of short-term spending requests submitted by Gieseke, who is using cash collateral to settle ECS' affairs. On Aug. 22, Bardwil will consider the seventh spending request.
An attorney for SummitBridge National Investments V LLC, which has a secured claim of nearly $26 million, told Bardwil during the Aug. 8 hearing he was concerned the "series of salami, short-term cash collateral motions" will drain the cash collateral.
"At this point, the entity is not operating, so we're very concerned we're going to run out of cash," said Tom Mouzes, an attorney for SummitBridge. "And that's the big concern. That's why we're very strongly pushing for an immediate, comprehensive exit strategy, because we're concerned that our equipment has to be cleaned, the buildings have to be cleaned. Certain things have to happen in a certain order."
According to Gieseke's spending forecast, ECS' operating cash balance is expected to be $625,000 at the end of this week, down one-quarter from the beginning of August. Once a cleanup occurs to the satisfaction of the state Department of Toxic Substances Control (DTSC), however, the state is expected to release $637,000 in facility closure bonds to reimburse costs, the trustee said in court papers.
Willoughby said Gieseke is working hard on a longer budget request that would finalize a companywide wind-down. The last big piece of information needed is the cost to clean machinery in Stockton and Mesquite so it can be removed and used for different purposes. He hoped to have bids for that work this week, he said.
"I have a feeling we're close to putting together a plan that we can march forward on," Willoughby said.
Photo credit: Resource Recycling file photo.
More stories about EPR/stewardship