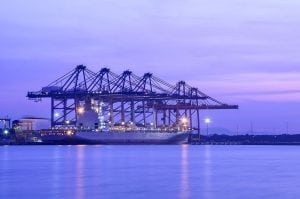 Asian governments continue to tighten their restrictions on imports of scrap material, including a temporary ban on plastic in Malaysia.
The following are recent developments in the ongoing constriction of trade with Asian countries:
Malaysia's temporary ban
Malaysia has placed a three-month moratorium on imports of scrap plastics. Steve Wong, chairman of Hong Kong-based plastics reclaimer Fukutomi, said in an email bulletin the prohibition went into effect starting July 23.
The move was prompted by media coverage of pollution caused by factories processing plastics that were illegally imported, Wong said. The three months is intended to give authorities time to ensure compliance with import permit and pollution controls, he said.
According to Census Bureau data, U.S. exporters sent 289 million pounds of scrap plastic to Malaysia during the first five months of 2018. That's a substantial increase from the same period in 2017, when the U.S. shipped roughly 70 million pounds of scrap plastic to Malaysian buyers.
Legislative changes in Vietnam
Meanwhile, Vietnam may be looking at a nationwide ban on scrap plastic imports.
In the spring, Saigon Newport International announced it would implement new restrictions for scrap imports, citing an overwhelming number of containers at its ports. Authorities also imposed a ban on scrap plastic coming through Saigon Newport ports from mid-June through October.
But now, the country's government is moving toward legislative action. During a recent press conference, officials said the government will be "revising legal documents on the management of waste imports, taking into account environmental protection, as well as putting into place a mechanism to manage, control, and prevent the trade and import of scraps from afar."
And, in a July 26 alert, the Institute of Scrap Recycling Industries (ISRI) reported hearing that the country is moving to impose a nationwide ban on plastic imports.
Additionally, this week, authorities seized illegal drugs that were being smuggled in a container of ferrous scrap. As a result, ferrous scrap customers in Vietnam have cancelled their orders after July 31. "We are trying to get more information if this will be a permanent market change," according to ISRI.
Thailand's ban impacts
A month ago, Thailand's Department of Industrial Works said it had "issued a prohibition on further imports of electronic and plastic waste effective immediately, and will be proposing to the Ministry of Industry to issue an indefinite ban on these imports in the near future."
ISRI cited one estimate that the ban has resulted in 20,000 containers of plastic scrap idling in the waters around the country's main ports.
China to extend ban
The Chinese government has released a proposal to completely ban every form of "solid waste" from being imported into the country. China's National Sword policy has already shut the door on many types of recovered materials.
China's Ministry of Ecology and Environment on July 11 posted a draft document that lays out numerous regulations covering solid waste management. According to an online translation of the document, one of its articles "prohibits the import of solid waste."
The Chinese ministry is seeking comments on the proposal by Aug. 18. Comments can be sent to swmd@mep.gov.cn.
Inspection billing
U.S. exporters sending scrap materials to China must have on-site pre-shipment inspections conducted by China Certification and Inspection Group (CCIC) North America. They are required to pay inspectors' travel costs and hourly rates.
The Institute of Scrap Recycling Industries (ISRI) in early July reported concerns from its members that CCIC inspectors were double-charging clients for travel expenses when inspecting multiple facilities in the same region. But ISRI representatives last week met with CCIC staff in Los Angeles and brought up the concerns. After the meeting, ISRI noted that the inspection agency "clarified that it is now their policy to split the expenses incurred during a single trip by an inspector among all the facilities visited." ISRI also learned that CCIC is working to hire more inspectors, but it will take time before they're fully trained and available to work through the backlog.
Trade mission planned
In its July 26 alert, ISRI noted it is planning a 2019 trade mission to Southeast Asian countries, including Malaysia, Thailand, Indonesia and Vietnam.
ISRI noted China's crackdowns on illegal recycling operations resulted in bad actors from the Chinese scrap processing sector moving to Southeast Asia, causing problems and leading to crackdowns there. ISRI staff have reached out to a number of embassies in Washington to offer support for the countries' efforts to distinguish legitimate trade of recyclables from waste and to develop responsible recycling practices domestically.
"ISRI is concerned about the effects of these government policies on legitimate trade of high value scrap commodities, but we understand and fully respect the need by these governments to take action against illegal businesses operating without respect to the host country's environmental and labor laws," according to the group.
Photo credit: Piyathep/Shutterstock
More stories about exports