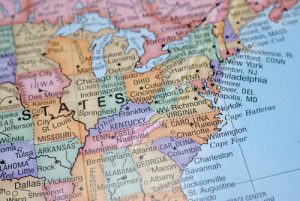 Hamstrung by regulatory setbacks in Pennsylvania and New York, Nulife Glass is in the midst of a major restructuring in order keep its CRT glass recycling business alive.
The company's leader said smelting equipment previously used in New York has been sent to another location in Virginia. "I want to relocate the business to where we're welcome," Simon Greer, Nulife's owner, told E-Scrap News.
Last month, the Pennsylvania Department of Environmental Protection (PA DEP) ordered Nulife to remove 17 million pounds of warehoused CRT material from the state within the next year. Just under 14 million pounds is leaded glass, and the remainder is intact devices and tubes.
It was a significant blow for the firm, which was already downsizing its Dunkirk, N.Y. headquarters after years of separate regulatory rifts with the New York Department of Environmental Conservation (NY DEC).
The company, which was founded in the U.S. in 2013, managed last year to begin operating a multi-million-dollar furnace in New York to process CRT glass. It's one of only a handful of domestic outlets for leaded CRT glass.
Greer estimates it could cost $1.7 million to dispose of the material in Pennsylvania. The state is now considering the glass a hazardous waste.
"If we had to move it all by tomorrow, we'd be done," Greer said.
According to Greer, the company has taken apart its glass smelting furnace in Dunkirk and shipped it to a smaller site in Bristol, Va. For the time being, Nulife plans to transform the Virginia operation, which opened in 2015, into its main processing hub while exploring other opportunities outside of New York and Pennsylvania. "It just got to a point where we said, 'Enough is enough,"' Greer said.
At present, Nulife is storing nearly 52 million pounds of CRT material in Pennsylvania, New York and Virginia.
What to do with Pennsylvania glass?
The latest decision from PA DEP followed more than a year of back and forths in which the company requested a variance from the federal CRT Rule.
Under the rule, which some states, including Pennsylvania, have chosen to adopt and enforce, processors handling glass must recycle – or transfer to another site for recycling – at least 75 percent of feedstock within a year. Firms are permitted to apply for variances that allow for more time to recycle material. Additionally, as long as they comply with the rule, the glass isn't considered a hazardous waste, a designation that brings additional regulatory scrutiny and compliance costs.
According to Melanie Williams, a DEP spokeswoman, Nulife's application failed to "adequately address the criteria for a variance."
"The absence of a feasible means of recycling the stored glass and the length of time it has been stored confirms that Nulife could not meet the federal CRT rules," Williams said.
As a result of the decision, Nulife has been told to remove 5 million pounds of glass by June 30 and the remaining 12 million pounds by Feb. 28, 2018. The material is currently stored in five warehouses in the state.
"Nulife has not informed the department of how it plans to remove the material and to what location as of this date," Williams said.
Greer, who maintains that PA DEP was aware of Nulife's plans to store the material in Pennsylvania and use it a strategic hub to feed the Dunkirk site, says he'll appeal the decision to the state's Environmental Hearing Board. He added, however, that if the ruling stands, the designation of the material as hazardous waste will likely require it to be sent to a disposal site, which could cost $200 per ton, or about $1.7 million in total.
"Everything I've asked them not to do, they've done," Greer said. "I don't know where to move it to. I'm trying to find out what options are available to us at the moment and, clearly, I won't be getting help from them."
Downsizing and shifting to Virginia
Nulife informed officials in New York in late January of its plans to surrender its air permit and dismantle its furnace.
In the letter sent to NY DEC and obtained by E-Scrap News, Nulife said it would use the Dunkirk site as a smaller-scale dismantling operation.
As of March 1, Nulife reported to the agency it was storing about 13.7 million pounds of CRT material in Dunkirk, NY DEC records indicate. Nearly all of it – 12.9 million pounds – consisted of non-leaded panel glass, which Greer said is now actively moving downstream.
A consent order Nulife signed with NY DEC late last year requires the firm to ensure glass volumes remain in accordance with the operation's closure plan. Erica Ringewald, a spokeswoman for NY DEC, said the agency is "currently negotiating the amount of material stored at the Dunkirk facility, which is subject to terms of the consent order."
Greer said the firm is exploring at least two additional U.S. sites as it aims to ramp up its Virginia location. According to records supplied by Nulife to the Virginia Department of Environmental Quality (DEQ), the Bristol site had just under 21 million pounds of material as of Dec. 31, 2016.
Virginia DEQ spokesman William Hayden said the agency is in the process of completing a report on a recent inspection of the facility and has not yet determined whether Nulife is in compliance with the CRT Rule.
Hayden did, however, note that the facility is not required to demonstrate a financial assurance or obtain a solid waste permit. Nulife has submitted an application for an air permit to assemble and operate the furnace in Bristol.
According to Greer, the dismantled furnace could be up and running in Bristol within the next month or two, barring any regulatory stepbacks.
"Am I confident? No," Greer said. "But the people in Virginia seem to have a really good attitude towards it. They seem to recognize they have a problem with TVs that needs addressing."