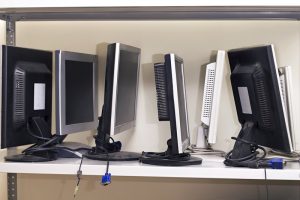 Recently unveiled robotics technology aims to boost throughputs and reduce environmental and health risks from LCD flat-panel display recycling.
German equipment company Erdwich developed a robotics system to cut and partially disassemble flat-panel display (FPD) screen devices so workers can easily remove their mercury-containing bulbs. The system is capable of processing 45 flat panels per hour and is designed for devices with screens ranging from 25 inches to 55 inches.
The advancement utilizes robotics technology to handle a stream that currently heads to advanced shredders or manual disassembly.
"It is necessary to remove up to 30 screws just to separate the two halves of the housing," Harald Erdwich, head of sales and marketing at Erdwich, stated in a press release.
"This dismantling procedure takes trained personnel between eight to 20 minutes, depending on the construction of the monitor and the type of background lighting."
The robotic system uses a conveyor to carry LCD display devices into a closed chamber, which contains a robotic arm, camera and milling spindle. Using the camera, a computer determines the contours of the screen, and the robotic arm cuts open the device. The screen is then discharged into a different closed chamber, different layers of the display device are removed so workers can easily access and remove the mercury-containing backlighting lamps.
Air from the chamber is removed and filtered, according to the company. The remainder of the device can then be sent to a shredder for materials recovery.
The company also makes a system for cutting open LCD monitors between 15 inches and 25 inches. That system can cut up to 60 monitors per hour.
Flat panel display devices are a small but growing segment of the U.S. e-scrap stream. While CRT devices continue to dominate residential e-scrap programs, e-scrap processors and state electronics recycling program administrators expect flat panel displays to become a core component of the waste stream in the coming years.