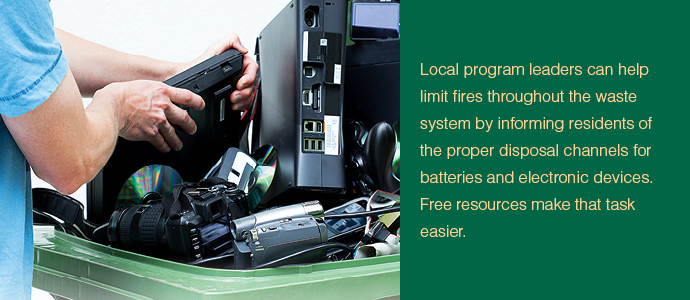 This article appeared in the November 2021 issue of Resource Recycling. Subscribe today for access to all print content.
The hazards surrounding the improper disposal of used batteries and personal electronics are well known in the waste and recycling industry. It's a serious problem, with sparks or explosions leading to fires throughout the waste management chain.
Earlier this year, for example, a MRF in Oklahoma suspended recycling operations to make repairs due to a battery fire. The situation meant residential recycling had to be redirected to a waste-to-energy plant.
Another case was seen this past summer when a MRF in Florida sustained substantial damage due to ignition suspected by batteries or a propane tank. The MRF was closed for over three months with recycling being landfilled during the shutdown.
Beyond the materials diversion losses, these types of incidents cause a safety hazard for workers and lead to property and equipment destruction (sometimes in the millions of dollars). In addition to MRFs, collection vehicles, transfer stations and other key nodes in local programs become susceptible.
As we continue to see more and more old batteries and personal electronics in our waste streams, every community needs to work toward educating residents on the safe and proper disposal and recycling options. As the saying goes, we don't know what we don't know. If residents don't know it's a problem, they don't know to seek a safe alternative to disposal.
Guiding action
The Recycling Partnership's Personal Electronics & Battery End-of-Life Management Guide is a new resource to help the industry move forward on this crucial issue.
The guide was created after significant message testing and a successful awareness campaign in Chula Vista, Calif. After two months of education, The Partnership verified through pre-and post-campaign measurement that awareness increased throughout the community. At the same time, the local household hazardous waste facility saw a significant and sustained increase in proper battery disposal.
Knowing that any community, regardless of population, budget, geography, or capacity, could replicate this campaign, The Partnership took its best management practices, combined with what was achieved in Chula Vista, and developed the Guide and associated assets that can be leveraged in any community.
The resources detail how to review collection options, funding, recordkeeping, training and more. They are free tools for communities to use.
'Tis the season for outreach
Chula Vista, located in Southern California, is the second-largest city in San Diego County, with a population of approximately 268,000 and 47,000 single-family households.
The Partnership worked with the city to implement the awareness campaign from November 2020 to January 2021 with this time frame being strategic. November kicks off the holiday shopping season – a time of year when batteries are consumed for holiday decorations, toys and gifts and holiday lighting. This is also often a time when many personal electronics are replaced or upgraded, resulting in older personal electronics being discarded.
With the timing determined, two objectives were set. The first goal was to inform residents about the fire and explosion hazards of batteries and personal electronics when discarded in household trash and curbside recycling.
The second was to provide information on the free, safe and convenient options for discarding batteries and personal electronics. For Chula Vista, that includes drop-off at the local household hazardous waste facility and retail locations, as well as mail-in options through the Call2Recycle battery management program.
To meet these objectives, The Partnership followed its best management practices to reach residents multiple times, through various communication outlets. Information was posted on Chula Vista's website, on social media, through local media, and as digital and bus advertisements. Additionally, single-family households received a direct mail piece.
Assessing awareness
Being an awareness campaign, the primary goal was to meet the education objectives – awareness and information. To gauge how well the campaign worked, The Partnership surveyed residents before and after deployment to assess their knowledge of proper disposal methods for these materials.
When comparing the pre-campaign assessment to the post-campaign, the percentage of survey respondents who said they would take batteries and personal electronics to an HHW facility increased five percentage points. At the same time, the percentage of residents saying they would dispose of these materials in trash and recycling dropped five percentage points.
Interestingly, the percentage of residents saying they would take the materials to a retail drop-off facility remained the same.
So what outreach initiatives had the most impact on residents? All the elements of the campaign had some level of success, but residents had the highest recollection of messaging on the direct mail that they received. The research showed 73% of residents recalled the messaging from the mailer.
Extending the outreach, digital advertisements received 5.3 million impressions, two social media posts from the city had a combined reach of over 160,000, and the city's web page dedicated to the project received over 15,000 views during the campaign.
Overall, the percentage of city residents seeing a message about proper battery disposal nearly doubled, from 29% in November 2020 to 53% in February 2021. The Partnership also learned that infrequent or non-recyclers were much more likely to recall the messaging through social media posts, digital ads or bus ads than the frequent/always recyclers who recalled the mailer. At the same time, though the digital advertisements ran for almost two months, overall residents' recall of those was lower compared with the one-time mailer.
When asked what they remembered about the messages, survey participants recalled seeing information about the location and hours of the local HHW facility, the basic message that batteries and personal electronics require special handling and should not be discarded in the recycling or trash, the words "spark" and/or "explode," and the caution that batteries and personal electronics can cause fires when discarded improperly.
Overall, the campaign met the objectives. Chula Vista residents' awareness of proper battery and personal electronics disposal increased. Almost three-quarters of those who remembered seeing an ad or mailing said they now know more about how to safely manage those end-of-life products.
And even better, between December 2020 and February 2021, the City's household hazardous waste facility received two to three times more batteries than the prior year and continued to see significant increases in battery collection even after the campaign concluded.
Customize for your community
While no two municipalities are the same, the Chula Vista campaign serves as an example of what can be achieved through targeted and clear messaging that follows communication best management practices. Regardless of population, budget, personnel or expertise, communities can select the best assets and outlets to reach their residents and work toward ensuring everyone knows how to properly dispose of their used batteries and personal electronics.
The Personal Electronics & Battery End-of-Life Management Guide includes all the information and resources needed for communities to create and implement similar awareness campaigns. Local leaders are also able to download free educational assets, such as social media graphics, video, mail and print collateral templates. In addition, stickers and signage in the guide can be customized.
As you're planning budgets and education for 2022, keep batteries and personal electronics in mind. A campaign similar to the one outlined in this article can be done at any point during the year, but toward the end of the year could help to keep these materials top of mind during the holiday season.
To download the guide for yourself and access the assets to get started, visit recyclingpartnership.org/electronics.
Asami Tanimoto is senior community program manager at The Recycling Partnership, and she has more than a decade of experience managing, analyzing, and solving environmental and sustainability problems. She can be contacted at atanimoto@recyclingpartnership.org.
This article appeared in the November 2021 issue of Resource Recycling. Subscribe today for access to all print content.