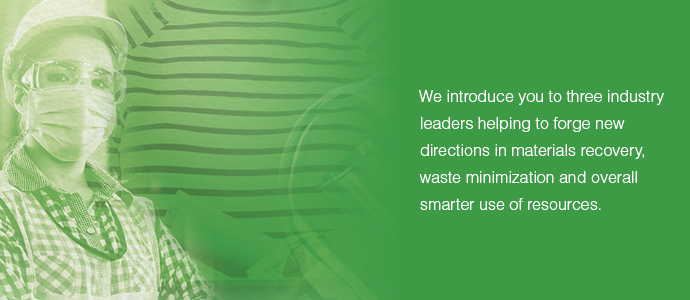 This article appeared in the August 2021 issue of Resource Recycling. Subscribe today for access to all print content.
Across the recycling sector and the wider circular economy, women are increasingly playing a larger leadership role. This includes individuals at major corporations; consulting businesses; nonprofits; local, state and federal government agencies and more.
The following Q&As help to highlight just a few of the women visionaries who are working to push forward business and programs making strides in zero waste, closed loop endeavors, sustainable materials management, and community resilience and regeneration.
May these leaders serve as inspiration in your own personal and professional sustainability journeys.
Stephanie Barger: The importance of looking beyond recycling
Stephanie Barger manages the U.S. Green Building Council's (USGBC) global, third-party verified zero waste certification program called TRUE (Total Resource Use and Efficiency). The program enables facilities to define, pursue and achieve zero waste goals, while cutting their carbon footprint and supporting public health.
How did your interest in sustainability start?
Cleaning up beaches with my youth-based nonprofit, Earth Resource Foundation. We went up the rivers to find the sources and research solutions. Understanding the entire ecosystem, both natural and business, provided a holistic foundation to connect with many different stakeholders.
What has been your most meaningful experience in the industry?
Founding the U.S. Zero Waste Business Council and the certification program that is now TRUE. Its global reach helps businesses, communities and governments create prosperity, efficiency and a better living standard. I am forever grateful for my family, friends and colleagues who believed and helped build the little engine that could.
What will most impact circularity in the future?
Going beyond recycling! We need to redesign our products, packaging and purchasing habits so we do not create waste in the first place. By focusing on reducing and reusing, we can shift our culture to understand that everything and everyone is valuable.
What's your favorite work project you worked on and why?
That would be Sisters of Saint Joseph in Orange, Calif. It is a mixed-use facility that includes a medical center, events center, women's home, classrooms and much more. The staff truly understood and embraced the impact our wasteful habits have on communities around the world. Once we trained them in zero waste, they immediately took action not only at their facilities but in their community by starting a food composting program.
What would you tell your younger self about your career?
Keep your passion and mission strong while allowing for flexibility and patience as you never know where the world will take you.
What credential do you recommend for people starting out?
TRUE Advisor, of course!
Sarah Enaharo: Building connections to drive change
Sarah Enaharo is the director of global sustainability at the floor covering division of Milliken & Company, which is an industrial manufacturer active across a breadth of disciplines, including specialty chemicals, floor covering and textiles. She also serves as a member of the board for the National Center of Healthy Housing, a member of the U.S. Green Building Council (USGBC) Leadership in Energy and Environmental Design (LEED) Steering Committee, and a member of the Healthy Equity Advisory board of the International WELL Building Institute.
How has your sustainability career evolved over the years?
I have been purposeful in the experience I wanted to gain over the years. In my 20s, I obtained a foundational knowledge of sustainability through internships with Anacostia Watershed Society (water stewardship) and District of Columbia Sustainable Energy Utility (energy efficiency and policy). In order to learn project management skills and LEED, I worked for a general contractor. I pivoted into building product manufacturing to learn how products impact indoor air quality and sustainable business practices. Incorporating more strategy and big thinking to my project management experience is a value add. Growing my network has also led to many impactful partnerships. Communication and writing were skills I strengthened over the years. Public speaking opportunities have grown and volunteer experiences have evolved from committee level to national boards.
Looking at the "toolkit" you've developed from past jobs, which item do you use daily?
Communicating technical information to non-technical audiences. As the community outreach associate at DC Sustainable Energy Utility, I had to communicate what energy efficiency was and its value to underserved communities. I didn't realize at the time the importance of gaining buy-in from stakeholders and influencing leaders. It's necessary to advance sustainability. My lesson learned is to be attentive to your audience and to meet people where they are.
What will most impact circularity in the near-term?
Consumer education on take-make-waste. Incorporating circular design early in a product's development. Investment in manufacturing processes to deconstruct products.
What work-related initiative most affected you and why?
Currently, I'm excited to be helping with the construction of the Tamir Rice Afrocentric Cultural Center in Cleveland. The property is being transformed by Robert P. Madison International (RPMI) and AKA Team into a multi-use facility for local youth to celebrate people of African descent. When told about the project by my mentor Ariane Kirkpatrick, I said, "I can donate flooring, but how else can I help?" Ariane connected me with Sandra Madison of RPMI, and while discussing the design, I inquired about their plan to incorporate green building products and to certify in order to create a healthy community space.
The intent was there, but the budget was tight. While catching up with my friend Jennifer Sheffield, who works for WAWA Sustainable Architecture and who shares my passion for equity and inclusive design, her response was "How can I get involved?" With Jennifer's help, we approached the USGBC about partnering with us to ensure LEED certification was feasible for this worthwhile project. They were also on board! What's exciting is the impact one can have on the community by tapping into one's network. As a sustainability practitioner, I'm passionate about exposing underserved youth to green building and STEM careers. I'm honored to be able to do so.
What is a favorite piece of advice you've received from a mentor?
"Step into life confidently, never forgetting who you are and whose you are. Remember the true source of your strength and blessings." That's from Sharon Robinson, my mom.
What career development opportunities do you recommend to other sustainability professionals?
For educational courses and professional credentials that provide a foundation for sustainable-building design and energy management, check out the Association of Energy Engineers, which runs the Certified Energy Manager (CEM) and Certified Energy Auditor (CEA) certifications; the International Society of Sustainability Professionals (ISSP), which has the Sustainability Excellence Associate (SEA) and Sustainability Excellence Professional (SEP) programs; the Green Building Initiative, which has the Green Globes Emerging Professional (GGEP) and Green Globes Professional (GGP) programs; and the USGBC, which has the LEED Green Associate and LEED Advanced Professional credentials.
To understand the link between material sustainability and a company's ability to drive enterprise value, the Sustainability Accounting Standards Board (SASB) offers a Sustainability Accounting credential. For leadership development, take a look at the Leading the Sustainability Transformation certification by the GreenBiz Group. Volunteering for boards helps build strategic thinking and communication skills and offers networking opportunities. Growing industry relationships is key.
Leslie Lukacs: Maintaining motivation to tackle huge challenges
Leslie Lukacs is the executive director of Zero Waste Sonoma in California and a board member of the National Recycling Coalition and the Zero Waste International Alliance.
How has your sustainability career evolved over the years?
A childhood interest in sustainability led to an environmental studies degree at the University California, Santa Barbara. I started my career setting up diversion programs for hundreds of community events, then became a consultant specializing in large-scale zero waste programs for national sports venues and event centers throughout the U.S.
I recently transitioned to the public sector, where I'm grateful to focus my energy in my own community. Zero Waste Sonoma is a forward-thinking agency that engages community stakeholders in a collaborative approach.
What has been your most meaningful industry experience?
Every day is meaningful when reducing waste through reuse, recycling and composting. These practices help us address climate change by reducing greenhouse gas emissions, sequestering carbon and improving the soil. I've been particularly fortunate to share local approaches to zero waste implementation internationally. A particular highlight is traveling throughout Brazil for several years to share best practices. I've been impressed and humbled by their achievements and the quick adoption and expansion of zero waste programs.
What's your favorite work project you worked on and why?
I enjoyed being a consultant in the industry for two decades, with most of that time at SCS Engineers. I was fortunate to have traveled to so many places implementing programs focused on wasting less in the public and private sectors. I have also learned so much from others by being involved in several industry associations.
What would you tell your younger self about your career?
When I was in my mid-20s, after consulting for so many events, I grew increasingly frustrated that events produced so much single-use waste with little consideration for recycling, composting or waste reduction. So I wrote and presented draft legislation to address the wasting at events to the organization then called the California Integrated Waste Management Board. A legislator was interested and agreed to author a bill. It took four years, but my efforts led to the adoption of AB 2176, which requires events over 2,000 people per day to have a recycling program in place.
Instead of advising my younger self, I often remind myself to channel my younger self and remain optimistic and fearless in the quest for a circular economy, zero waste and climate mitigation. It's easy to get jaded when working in the environmental industry, but I have more hope and determination than ever, especially working on climate action projects with so many passionate community members and youths in my hometown in Sonoma County.
What training do you recommend to your colleagues?
I always recommend the TRUE Advisor credential and the California Resource Recycling Association/SWANA Zero Waste Certification program.
MaryEllen Etienne works on the Market Transformation and Development team for the U.S. Green Building Council. She has over 20 years of experience in sustainability and is a champion of the circular economy. She can be contacted at maryellen.etienne@gmail.com.