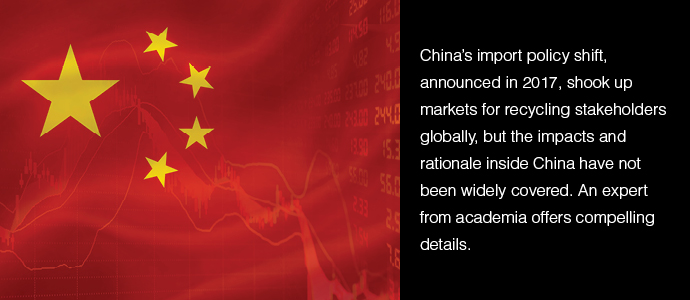 This article appeared in the August 2021 issue of Resource Recycling. Subscribe today for access to all print content.
The following is an excerpt from "Remains of the Everyday: A century of Recycling in Beijing," written by Joshua Goldstein and published by University of California Press earlier this year. The book takes an in-depth look at shifts in the Chinese government's approach to materials recovery going back to the start of the 20th century, and it culminates with analysis of the country's National Sword import prohibition, which took effect at the outset of 2018.
Is the National Sword action having the desired effect of strangling the supply flows headed to polluting processors and helping root them out?
On Jan. 22 and 23, 2018, China Central Television (CCTV) aired a pair of undercover reports on the waste ban, orchestrated reconnaissance missions complete with night-flying drones, clandestine filming, and journalists impersonating buyers.
The first report focused on Ziya Environmental Protection Industry Park in Tianjin (ZEPIP), a state-managed industrial park that for a decade had been dedicated exclusively to processing imported scrap, much of which was now cut off. Reporters saw no signs that ZEPIP companies were violating the ban but did find many companies were in dire straits trying to transition from foreign to domestic supply chains; managers complained that China's domestic scrap was of insufficient quality to replace the imported materials on which they had depended.
The second report investigated the notoriously polluting county of Wenan and ferreted out a cluster of informal plastic shops from which noxious fumes billowed into the night air. This was happening despite the fact that Hebei province (of which Wenan is a part) was under the tightest ever "blue sky" restrictions on air pollution; the rogue processors had informants inside the local government warning them about inspectors before they arrived. "The higher-ups take measures, those below have countermeasures," as the local saying goes. Still, there was no sign any of this scrap was imported; it was all clearly domestically sourced, so at the very least the ban almost immediately narrowed the options available to rogue processors.
For those informal processors with more capital and better foreign connections, opening processing shops in Southeast Asia looked more promising than playing dangerous games of cat and mouse with the government. It was entirely predictable that China's informal processors, with their inexpensive equipment, their long history of dodging state authorities, and their familiarity with foreign supply chains, would be quick to search out overseas locations where they could continue processing, profiting and polluting.
Within weeks of the ban's announcement in July 2017, online advertisements appeared hawking group tours for Chinese plastic processors interested in scouting for factory locations in the Philippines, Malaysia, Vietnam and Thailand. But these tours were not organized by shady informal scofflaws; they were being planned and led by the state-affiliated China Scrap Plastic Association (CSPA). It was not criminal polluters from Wenan and Guiyu but the CSPA that was selling weeklong "inspection tours" complete with meetings with foreign officials to discuss import regulations and other matters.
Here is some of the catnip the CSPA dangled for its package tour of the Philippines: "President Duterte says, 'Come to the Philippines to process your plastic scrap, a huge quantity of materials awaits Chinese entrepreneurs!' Though a signatory of the Basel accords, the Philippines allows the importation of plastic wastes. In fact, it is the only South East Asian country that imposes no licensing controls. They allow imports? Without any permit control? Don't those words give you especially 'spicy eyes'? It's true. The Philippines is just that headstrong!"
Not every ASEAN country was touted as an unregulated paradise. Tour materials for Thailand emphasized its advantage of having strong Chinese business networks already in place, but they cautioned that Thailand's port and environmental authorities needed to be taken seriously.
In its dozens of tour reports and advertisements, the CSPA framed the shift of processing overseas as part of "One Belt, One Road" ecological developmentalism. Thai, Malaysian and Vietnamese authorities begged to disagree. A raid in October 2018 outside Kuala Lumpur shut down three illegal plants, two of which were owned by Chinese nationals. A spring 2019 report from the environmental group Global Alliance for Incinerator Alternatives (GAIA) documented the devastation caused by the tsunami of plastic processing and waste burning that inundated port-adjacent villages in Malaysia, Thailand, Vietnam and Indonesia. Chinese partners were active in almost every case.
Ripple effects
Seeing that a blanket ban is inflicting damage across the Chinese economy, crippling not just small, shifty polluters but also registered companies in state industrial parks like ZEPIP, the question arises: Why would the state choose such a strategy?
As Bloomberg journalist Adam Minter has argued, if the goal is pollution prevention. then banning scrap imports seems misguided; it either forces companies to substitute lower-quality and more polluting domestic scrap or shift to virgin materials, which are more polluting and energy intensive to produce than using recycled materials. Both alternatives entail higher overall environmental costs than using imported scrap.
But Minter's calculation, though accurate, is not the one China's planners are making. The state is not comparing domestic to imported scrap but looking at the country's overall materials markets and resources.
Compared with 20 years ago, China has more than quadrupled its available domestic scrap generation – from huge new flows of post-consumer plastics and paper to a massive expansion of metals from end-of-life durable goods and building demolition. Hence, in theory, China is much closer to being able to supply all its own scrap demand. So state planners ask: With today's massive domestic scrap material base, why import scrap at all? Scrap requires processing which always has local pollution costs; shouldn't we only import clean virgin materials instead? OECD countries hardly import any scrap; why should we?
This logic is certainly not environmentally beneficial from a global perspective (increasing the use of virgin materials increases environmental costs from mining, deforestation and more), but it makes more sense from a national one. Banning scrap imports means that imported materials will only raise the overall quality of materials used in China's manufacturing rather than add to the country's pollution load. Ecologically, the ban quickly increased demand for more costly (both economically and environmentally) virgin materials; the third quarter of 2018 saw the biggest export total of virgin PE plastic resin to China in history. Though the environmental costs of producing virgin PE are higher than the environmental costs of recycling it, those costs have been shifted outside China's borders.
But the environmental calculus is not the whole story, nor the most important one, from the global environmental perspective. Two years on, it has become clear that China's ban has helped catalyze an impassioned global debate on plastic pollution. Environmental scientists, biologists and activists have been documenting the myriad hazards of plastics to the environment and human health for decades, but China's ban has helped raise these concerns to new levels of attention, outrage and political action.
When Southeast Asian nations followed China's lead with their own import bans – returning hundreds of containers of waste plastics back to the OECD nations whence they came and sharing images of villages buried under piles of imported trash – the scales of public opinion in OECD nations began to tip. In May 2019, the Basel Convention on the Control of Transboundary Movements of Hazardous Wastes and Their Disposal was amended to include plastic waste under its processes of monitoring and regulation.
But arguably most important is that the Chinese ban has helped push the international conversation on plastic pollution up the supply chain, beyond the questions of disposal and recycling and on to questions of how best to reduce or even eliminate the manufacturing and use of disposable plastic products and packaging.
In the wake of China's ban, the EU endorsed the Strategy for Plastic in the Circular Economy, which included eliminating single-use food utensils, reductions in food containers and packaging, and mandates for recycled content in plastic products. Meanwhile, California has drafted similar legislation. And China's National Development and Reform Commission (NDRC) is drafting policies with goals including banning plastic foam takeout containers, plastic utensils, ultra-thin plastic bags, and all products containing plastic microbeads.
China's long-term economic vision
There is no denying that within China, the ban comes with economic costs.
Countless Chinese manufacturers have built supply chains around plastic, paper and metal scrap for decades, and suddenly cauterizing the inflow of tens of millions of tons of materials has inflicted collateral damage across a broad swath of the economic landscape. Why would China's government choose to impose this kind of self-inflicted wound on its economy? This is where escaping the "middle-income trap" comes in.
China's "development miracle" since the 1980s was built on the backs and sweat of China's huge pool of inexpensive labor. But after decades of successful growth, that economic model's potential is tapped out. To continue raising GDP per capita, China must advance into higher-profit, higher-wage sectors. Recycling, especially informal recycling, is a textbook labor-intensive, low-wage, low-profit sector, and the state hopes to hasten its atrophy with the ban.
As Liu Jianguo, a leading Chinese government policy expert, explains it: "In the short term, the renewable resources processing and utilization sector will sustain a definite shock. After a period of pain, a large number of low-end enterprises must face their fate and shut down. But in the long run, it is a major opportunity to contribute to industrial agglomeration, improving the level of our technology, management, environmental standards and product quality."
Markets will collapse, and costs will rise, but large companies favored with government loans and soft budget constraints can weather the storm; small, private entrepreneurs with thin profit margins will struggle mightily and mostly fail. And that is the whole point. From the state's perspective, those small companies need to be weeded out.
At the same time, if all works out properly, it is hoped that domestic waste management policies will foster market spaces enabling high-tech and state-owned companies to wrest back control over China's own huge domestic waste streams and put them to profitable and environmentally responsible use.
Joshua Goldstein is associate professor of modern Chinese history at the University of Southern California. He can be contacted at jlgoldst@usc.edu.