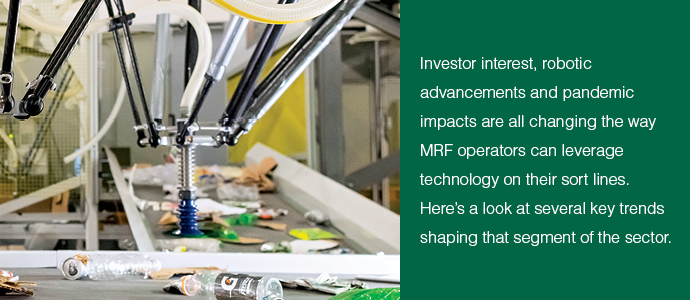 This article appeared in the March 2021 issue of Resource Recycling. Subscribe today for access to all print content.
The last year presented countless unanticipated challenges for the waste and recycling industry. But programs and operators showed resilience, and while the ripple effects of the pandemic continue as we enter 2021, there are signals the future is bright.
Looking at waste technology for the year ahead, keep an eye on trends such as more investment, larger deployments of advanced processing systems, and new applications for artificial intelligence (AI).
This story will outline several key trends that will be playing out in the MRF sector in 2021.
More investment dollars
The investment community is paying increasing attention to the waste management sector. There's recognition of the opportunities presented by greater demand for recycled content in the supply chain, as well as expected infrastructure funding coming from the government to aid economic recovery in the U.S. and greater focus on climate policy.
The proliferation of technology that helps increase efficiency and productivity in recycling to improve utilization creates greater cost discipline and makes investment that much more attractive.
A recent report from global business consultancy PwC found venture capital (VC) and corporate investment in climate-oriented technology grew at a faster rate than overall VC investment as a whole between 2013 and 2019, and investment in that realm reached a record high in 2020.
Bringing that into the recycling sector, AMP Robotics (which is run by the author of this story) announced $55 million in new funding to start 2021. That backing came from investors new to the recycling sector – companies such as XN and Valor Equity Partners that are interested in technology and infrastructure. They join previous investors, including Sidewalk Infrastructure Partners and Closed Loop Partners, that are more known in the material recovery industry.
It's likely that technology leaders poised to impact waste and recycling will continue to attract the attention of nontraditional and traditional players alike.
And the investment interest isn't limited to the VC community. Equity research firm Stifel projected continued profitability for the waste sector in 2021, giving six publicly traded waste companies a "buy" rating. Waste and recycling is a defensive sector with stable investment appeal, especially in the face of lingering uncertainty regarding overall economic recovery.
Broader adoption and bigger deployments
There are an estimated several hundred robots deployed in North American recycling facilities, primarily in single- and dual-stream plants, though some are serving construction and demolition and electronic waste applications.
That's roughly two to three times the number of robots there were at the end of 2019. More MRFs have adopted and begun to rely on automation in the last few years, especially during the pandemic because robotics offered a path to operational continuity.
The pandemic accelerated adoption and greater interest in larger and repeat orders – second and third orders from existing customers installing systems on new lines – but it wouldn't have happened without the momentum that was already developing around AI and robotics in these environments. AI-guided robotics systems have become proven technologies with real operational benefits, based on continuous improvements in field performance and reliability following their initial deployments.
At AMP, we recently partnered with Waste Connections to deploy 25 robotics systems – our largest order to date – in facilities across the country. During the Waste Connections third-quarter earnings call, CEO Worthing Jackman explained, "I think we [have] probably one of the largest robotic orders in for our recycling facilities. … We didn't run in at Version 1.0. We waited for Version 2.0 or later to make sure the technology is proven and we can get the kind of payback that we are looking for with that kind of deployment."
Waste Connections' intent to deploy these systems on container, fiber, and residue lines across numerous MRFs illustrates that this is no longer a discrete, experimental technology, but one that major players are buying into in order to take their productivity and efficiency to the next level.
Category expansion and waste characterization
Technology improvements have paved the way for MRFs to expand their ability to identify what's moving down the sortation line by material type, form factor and numerous other attributes. These advancements yield new opportunities for applications such as waste auditing and characterization to bring greater transparency to the material stream.
The neural networks in AI systems have the capacity to recognize different types of packaging, all the way down to the brand level. For instance, Keurig Dr Pepper converted its K-cup coffee pods to polypropylene, and we worked together to ensure our robotics systems could identify and sort them.
We'll see more of these collaborative efforts with brands and packaging producers in 2021 to ensure an adequate supply of high-quality feedstock for new packaging, as well as progress toward recovering materials that have been notoriously difficult to recycle, including aerosol containers, flexible packaging and more.
AI gives MRF operators the ability to transform recoverable material into data-driven material insights.
With AI incorporated at various points throughout a recycling facility, it can suggest or simply change screen angles, for instance, in anticipation of what's coming down the lines to maximize recovery and quality – helping to increase the resale value of recovered material while reducing processing costs. AI-enabled facilities equip operators with data to make decisions that improve their bottom line, like charging a hauler or customer more for above-average contamination. It also offers the precision to tailor bales at a premium for buyers of materials who want a specific amount of OCC in a mixed-paper bale, for instance.
The expanded use and applications of data enable measurement and characterization of the material stream at key stages of recycling operations, reduce bale rejections, and, ultimately, create the means for bale certification.
Secondary sortation
The application of AI for material identification and advanced automation has matured to the point where it's also become feasible to develop secondary sortation facilities. At AMP, we've introduced a secondary sortation facility design to economically process and aggregate low volumes of difficult-to recycle mixed plastics, paper, and metals sourced from residue supplied by primary MRFs. These secondary facilities drive down the cost of recovery while creating contamination-free, high-quality bales of recycled material for resale – introducing market certainty and new revenue streams for established MRFs by creating demand for residue that would otherwise cost them to dispose of. With the United States recycling less than 33% of recyclable materials overall – and just 9% of plastics – produced annually, the ability to recover recyclables from residual waste streams represents a major opportunity to increase national recycling rates.
Flexibility at the forefront
The pandemic shifted the sources of material for processing, with a spike in residential volumes and a drop in commercial volumes. This was all driven by stay-at-home orders and the temporary closure or restricted operations of many businesses.
The ability to pivot to adapt to these changes gave facilities equipped with AI and automation an edge.
As these patterns bleed into 2021, higher contamination levels will persist, as will sharp focus on maximizing both purity and recovery as commodity demand fluctuates. Whether the "Amazon effect" continues to drive up fiber prices or there's another UBC shortage, facilities will continue to depend on the flexibility and agility AI and robotics provide to take advantage of demand pricing.
Moreover, when you solve the sorting challenge, nearly everything that comes down the conveyor belt has value that's discarded if it's not recovered. Contaminants aren't always worthless – if it's a plastic bottle in a paper bale, it's a contaminant, but in the right bale, perhaps a high-quality blend for food-grade containers, it has value.
Keep an eye on more flexibility in the financing of equipment too. The recycling industry isn't monolithic, and operators, from municipalities to private owners/operators, value flexibility in the form of financing options like a lease, with fixed monthly payments without anything due upfront, or outright purchase. New ways of making technology attainable to the industry more readily is likely to stick around.
Workforce stabilization
COVID-19 also presented a health and safety risk the industry wasn't completely prepared for, and we saw that automation helped recycling operations keep running amid worker absences and social-distancing requirements.
The safety benefits associated with automation are well-established, and as recycling technology evolves, we see further stabilization of a labor force that's long been plagued by turnover and understaffing.
During a recent Greenbiz webinar, Brent Hildebrand, vice president of recycling for GFL Environmental, spoke on behalf of the Canadian-headquartered hauler and MRF operator, which is one of the largest in North America. Hildebrand previously worked at Colorado-based Alpine Waste & Recycling, which was acquired by GFL.
The Denver-area Alpine Waste & Recycling MRF was an early adopter of robotics technology. One factor that led the facility to install robotic sorting systems was the rising cost of running a MRF, Hildebrand said.
"Part of those rising costs is rising labor cost," Hildebrand said. "And on top of that, it's just finding labor for these sites."
Today, about one-third of material that could be recycled is recycled, meaning two-thirds of the market is open. With automation, facilities can count on a baseline level of capacity that allows them to run more shifts.
When you require less labor to process a ton of material, you can go after more of it. Addressing the shortcomings and inefficiencies of the process to make recycling more profitable than it is today creates a sustainable workforce for jobs that have been chronically hard to fill. This will lead to the creation of higher-skilled roles within existing facilities as well as the opening of more facilities in underserved areas, and with them, new job creation.
The long-awaited transformation
When you aggregate the many benefits of technology in recycling, you see an industry with fundamentally better economics. What this means is we can begin – finally and truly – to look at the waste stream as a domestic source of resources and turn first to recycled materials before extracting resources from the earth.
Aligning incentives, removing barriers and reducing costs to doing the right thing paints an exciting future for waste and recycling, and it ensures the transformation we're collectively working toward will be lasting and sustainable.
Matanya Horowitz is founder and CEO of AMP Robotics. He can be contacted at matanya@amprobotics.com.