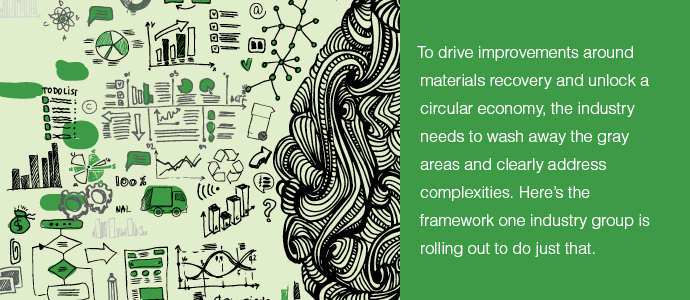 This article appeared in the June 2020 issue of Resource Recycling. Subscribe today for access to all print content.
This story is the latest in our "Steps to Circularity" series, which explores projects and viewpoints connecting the business of recycling to the wider circular economy movement.
We know that the world needs a circular economy now more than ever. Cities are looking for ways to meet the expectations of residents and handle materials efficiently. Many companies, meanwhile, have ambitious packaging sustainability targets to meet in the coming years.
In our 2019 "Bridge to Circularity" report, The Recycling Partnership provided a clear roadmap to improve recycling, one of many steps needed to move the U.S. toward a circular economy so many stakeholders are hoping to see materialize. It's clear, however, that transitioning to a circular economy requires systems change.
That's why we're excited about our new initiative that can guide next steps: The Pathway to Circularity.
The Pathway to Circularity provides a methodology and approach to problem-solving that will address the limitations associated with the recyclability and circularity of certain packaging materials today. This action-oriented and solutions-based initiative navigates current and future packaging and recycling system challenges.
Additionally, one of the principal features of the Pathway to Circularity is that it is a "living" roadmap, one that can evolve and take into account shifts in innovation, market realities and uncontrollable external factors (like a global pandemic). It is designed to be a dynamic tool, with the flexibility to grow and shift with us, as the system of the future is being built.
Bringing clarity and depth to decision-making
Navigating the recycling industry can be tricky, in part because there are currently a lot of gray areas and concepts. There are certain industry standards and thresholds that do not exist, and no one place that shows the concrete steps needed to achieve circularity and true recyclability for materials or packages.
One example is this common question: What does successful sortation at a recycling facility look like? Currently, there is no threshold or standard for "successful sortation." The Pathway to Circularity is intended to wash away the gray and bring needed clarity to enable more stakeholders to successfully navigate and advance the circular economy.
Currently, the Pathway to Circularity is focused on recycling and circularity through municipal collection programs, whether curbside or dropoff. For packaging, a gold standard in the industry today is being deemed "commonly accepted" for recycling. However, many different considerations come to mind when one thinks about a material or package being commonly accepted.
Access, sortation and end markets may be a few concepts that come to mind. But should we be thinking about these as separate check boxes, or should we highlight how interconnected and interdependent recycling and circularity truly are? For example, instead of simply determining whether "access" exists in a given area, can we think deeper about what access means? Why does a MRF say it will accept a certain material or format? Usually this is indicative of conditions around end markets and material demand, but has that been fully investigated and understood?
The Pathway to Circularity initiative will strive to bring a new depth to these types of conversations and bring to light the interdependence of the varying factors that shape recycling and circularity.
While "commonly accepted for recycling" is currently the focal point of the Pathway, attaining this status for different materials is not an end point, but a milestone. For a material to remain truly viable in the recycling system, continuous evaluation and, at times, additional work will be necessary. There are examples in our industry today of commodities that have reached common acceptance in collection systems but that require additional action when it comes to increasing demand for the material in reliable end markets.
Each material in the recycling stream will have its own unique path and challenges. The Pathway to Circularity will provide a strategic assessment that guides efforts to address issues at each step in the recycling supply chain.
Progress via a council and coalitions
The Pathway to Circularity provides opportunities to advance circularity with various stakeholders working together. This is an important point because effecting meaningful system change across the U.S. requires industry alignment and consensus.
This industry alignment will be achieved through The Pathway to Circularity Industry Council (otherwise known as the Circularity Council), which includes industry leaders representing various material types, brands, cities and states, MRFs, and retailers. The objective of the Circularity Council, which will meet for the first time in late June, is to form a cohesive network to enable industry alignment, break down barriers, and catalyze system change. The Council will address core program principals, align on the overarching framework, and identify gray areas and other challenges.
Ultimately, the Council will define new industry thresholds needed to successfully navigate the recyclability and circularity of packaging materials today.
Furthermore, in order to improve the system, we must put a focus on individual materials. And this is not something any one organization or business can do alone.
The Pathway to Circularity methodology and emerging strategic assessment process provides the guidance to address unique challenges of specific packages and materials. It serves as a platform to enable pre-competitive collaboration to achieve recyclability through the creation of material and packaging-specific coalitions, which will discuss and solve these packaging challenges.
When formed, each coalition will have different and specific objectives – because each material is at a different place on the pathway to achieving circularity. However, the general pathway vision will remain constant. The material coalitions will aim to reach and/or maintain "commonly accepted for recycling" status for the material. The coalitions will also maximize recycling rates and post-consumer recycled content usage, as well as strengthen and expand end markets.
Getting to work on polypropylene plastic
The Pathway's polypropylene recycling coalition is an example of a material-specific collaboration that is helping to build the road to circularity.
Polypropylene (PP) is a valuable commodity that can be separated or commonly commingled with plastics Nos. 3-7. Recycled PP can be used to manufacture many different products, ranging from toys to yogurt packaging to coffee pods. End markets for this material are operating across North America, yet 3-7 bales (which include PP) are being dropped from community recycling programs.
Why? Although multiple factors are at play, MRFs do not generally have the capital to invest in the equipment, such as optical sorters and robotics, needed to capture more of this material. In addition, our data suggests that PP generation rates are as high as or higher than rates of some other recyclable plastics, such as HDPE. However, this information is not widely known or documented, leaving a knowledge gap regarding the volume of PP available for collection.
Through the polypropylene recycling coalition, industry leaders are collaborating to address this challenge head on.
The coalition will provide grants, conduct research and support education to increase curbside recycling access and recovery for PP. By working together, we aim to ensure PP is widely accepted for recycling and ultimately reaches a high recycling rate so it can be reused rather than wasted. The coalition will ensure that recycling facilities can sort PP successfully and maintain robust end markets. The aim is to supply high-quality recycled PP for use in packaging.
Overall, by improving PP curbside recycling programs, the coalition will preserve natural resources and continue to strengthen the circular economy in the United States for PP and all recyclables.
The start of transformation
We recognize our goal is a lofty one: It's the creation of a new system that empowers us to be the best possible stewards of packaging design and recycling so we can collectively create a world that values wasting less over consuming more. A lot more is needed, but this is the beginning of a massive shift toward a circular economy – for all materials, not just plastic.
It's also important to keep in mind that partnership is part of our name for a reason. We can reach this goal only by working with industry leaders and aligned organizations, including the Association of Plastic Recyclers and the World Wildlife Fund, and with the circular investment sector, led by Closed Loop Partners. And we'll do it with the help of the elected officials who are critical in addressing policies that are keeping recycling stuck in the 1970s.
Swift action is needed to protect natural resources and abate climate change. The Recycling Partnership stands ready to take on this challenge and calls on the many public and private sector stakeholders to join us in building the system of the future that will provide the foundation for a circular economy in the U.S.
Please contact us at info@recyclingpartnership.org if you'd like to partner with us on these efforts to catalyze change.
Ali Blandina is the Director of Circular Ventures at The Recycling Partnership and can be contacted at ablandina@recyclingpartnership.org.