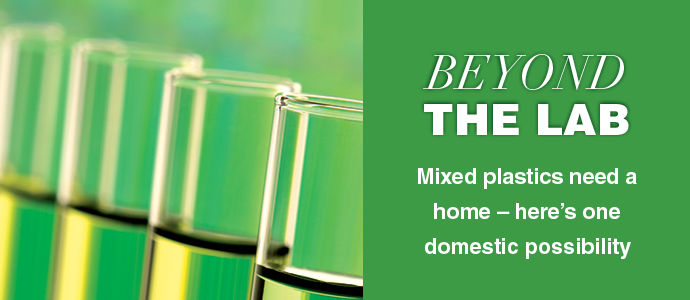 This article originally appeared in the June 2019 issue of Resource Recycling. Subscribe today for access to all print content.
Global chemical company Eastman has unveiled a recycling process that breaks down polymers into gases for use in chemical manufacturing. It's now looking for suppliers.
The Kingsport, Tenn.-headquartered company in April announced what it calls carbon renewal technology, through which mixed plastics are deconstructed into hydrogen and carbon monoxide molecules. Eastman then feeds the gases into its existing large-scale system for producing chemicals used in a variety of products.
"The world has a waste plastic problem today, and this is something that can start contributing to fixing that," Ron Sheppard, director of corporate innovation at Eastman, said in an interview.
The carbon renewal technology is separate from a different plastics recycling process Eastman unveiled in March, called "advanced circular recycling." That process uses methanolysis to depolymerize tough-to-recycle polyester items into their building blocks, dimethyl terephthalate (DMT) and ethylene glycol (EG), which are monomers that can then be used to make new plastic.
"We really see both of these technologies as complementary to the existing mechanical recycling stream," said Holli Alexander, strategic initiative manager of global sustainability at Eastman.
Alexander and Sheppard spoke with Resource Recycling to provide more details on the carbon renewal technology and how the technology could offer up an end market for plastic types that have seen market tightness in the wake of Asian import prohibitions.
How the technology works
At its sprawling Kingsport facility, Eastman currently feeds fossil fuel resources into a production unit, generating hydrogen and carbon monoxide, Sheppard said. The chemistry is essentially what's found in a partial oxidation, or POX, unit, where a carbon source is heated in an oxygen-starved environment to create hydrogen, carbon monoxide and a smaller amount of carbon dioxide, which helps generate heat for the process, Sheppard said.
The resulting hydrogen and carbon monoxide are then used by Eastman to produce a number of chemical intermediate products, including acetic acid, methanol, methyl acetate, and acetic anhydride.
The carbon renewal technology is essentially an adaptation of the front end of the system, allowing Eastman to use mixed plastics as feedstock instead of virgin fossil fuel resources.
"We've done multiple trials with different materials in our Kingsport facility at scale," Sheppard said. "We have very high confidence in the technology."
The resulting intermediate chemicals are used in any number of products, including LCD screens, durable plastics, textiles and more, Alexander said. For example, Eastman in January 2017 first introduced a cellulosic yarn product called "Naia," which can be used in clothing.
Sheppard explained that the cellulose acetate in Naia comes from wood pulp from sustainably managed forests with some amount of acetic anhydride derived from fossil fuel sources. With the carbon renewal technology, Eastman can use scrap plastics to produce the acetic anhydride that goes into Naia, he said.
The partial oxidation process is highly efficient at converting materials, but it will leave as residues non-carbon contaminants such as calcium carbonate and glass fillers, Sheppard said.
He noted the company expects a smaller energy footprint from using recycled plastics than from using the current virgin resources.
The company is looking for suppliers of mixed and otherwise difficult-to-recycle streams that lack recycling markets today, Alexander said. Carbon renewal technology can take a number of different materials, including engineering plastics, commodity packaging plastics, thermoset resins and more (however, Eastman isn't looking for PVC). The technology can also take plastic in different forms, including multi-layer flexible films and textiles.
Eastman is expecting commercial-scale production of chemicals from scrap plastics by the end of 2019.
Part of wider industry trend
Advanced chemistry approaches are being increasingly discussed – and in a number of cases embraced – as a strategy for tackling plastic streams that mechanical reclaimers can't easily handle because of contamination or material heterogeneity.
A number of worldwide virgin plastics and chemical companies are also investing in research or partnering with startups in the advanced recycling technologies space, including Americas Styrenics (AmSty), BASF, Borealis, Braskem, Indorama Ventures, INEOS Styrolution, LyondellBasell, MOL Group, Royal DSM, SABIC, Total and others.
Those technologies are being developed at a crucial moment for the wider plastics industry. Asian import restrictions on recyclables and growing discussion worldwide about marine debris have forced plastics stakeholders to address end-of-life materials management in new ways.
In the case of the carbon renewal technology, Eastman didn't have to start from scratch. The company has practiced the partial oxidation technology since the early '80s, Alexander said.
In mid-2018, Eastman made the modifications to the front end of the existing large-scale system to allow it to accept mixed plastics, Sheppard said. The modifications are trade secrets, although some elements will be made public via patent filings in the future.
Jared Paben is the associate editor of Resource Recycling and can be contacted at jared@resource-recycling.com.