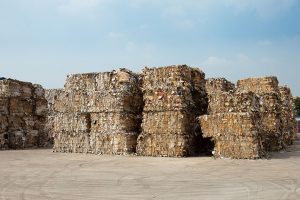 Consumption of U.S. recovered fiber versus overall finished paper products sold into the market hit a record high percentage in 2018. An industry group explained the increase, which came amid market challenges.
The American Forest and Paper Association (AF&PA) last week released its 2018 U.S. paper recycling report, noting that last year's recovery rate hit a historic high of 68.1%.
The statistic takes into account all of the recovered paper grades listed in the Institute of Scrap Recycling Industries (ISRI) specifications, including mixed paper, old newspaper and other mechanical papers, OCC, pulp substitutes and high-grade deinked paper.
The denominator for the equation is domestic and imported paper and paperboard products being supplied to the market. In 2018, AF&PA measured 77.3 million tons of finished paper products sold.
For the numerator, AF&PA measures how much of those recovered paper grades is consumed by domestic mills or exported. In 2018, the organization tallied 52.7 million tons of recovered fiber consumed.
Comparison with previous years
The recovery rate is the highest on record, which dates back to 1990. The next-highest year was 2016, when the U.S. notched 67.2%. The rate has generally trended upwards, with occasional backslides, such as in 2012, 2013 and 2017 (these years coincided with market challenges spurred by Chinese import restrictions, first with Green Fence and later with National Sword).
The recovery rate in 2018 is notable as a new record high percentage, especially amid a challenging market dynamic for recovered paper and recycling overall.
"It looks like robust demand to me," said Brian Hawkinson, executive director of recovered fiber for AF&PA, in an interview with Resource Recycling. Domestic mill consumption of recovered fiber grew by 2.7% and exports grew by 4.2%, according to AF&PA.
"Mills are using more recovered fiber as a raw material to make paper and paper-based packaging in the U.S.," Hawkinson said.
Meanwhile, the 2018 increase in recovered fiber exports, which Resource Recycling reported on earlier this year, indicates strong global demand amid the trade uncertainties, Hawkinson explained.
"That shows that the markets are resilient," he said. "There's global demand and fiber will find a home despite the strife."
AF&PA found that recovered paper landfilling decreased from 2017. In 2018, 21.3 million tons of fiber was landfilled across the U.S., the organization found, which ties with 2015 for the lowest landfill weight on record.
OCC carries the weight
Although exports of all recovered fiber grades grew about 4% last year, OCC exports skyrocketed, increasing by 27 percent from 2017 to 2018. OCC was similarly the prime driver of higher domestic recovery.
"Corrugated is the biggest grade that is consumed in the U.S. and is exported for manufacturing around the world," Hawkinson said.
Although mixed-paper exports fell by 1 million tons last year, the grade saw some increase in domestic consumption. AF&PA found that U.S. mixed-paper consumption among domestic mills was up 2 percent compared with 2017.
"My sense is mills are finding a way to use that fiber – having the availability and low cost as an option for raw material is something mills always look at," Hawkinson said.
Major mill operators discussed incorporating mixed paper into their feedstock in recent earnings reports, noting that it works in some cases but not for higher-end products.
Photo credit: 1933bkk/Shutterstock

More stories about fiber