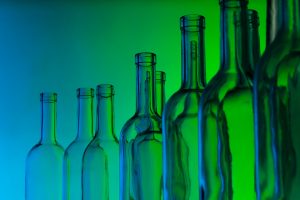 The recently formed Glass Recycling Foundation has a goal of raising $1 million over the next year to invest in glass recycling projects, according to a leader of the nonprofit entity.
"All grants will be made with the public benefit first and foremost – increasing glass recycling in communities across the country," said Lynn Bragg, board president of the Glass Recycling Foundation (GRF).
Announced in a press release April 16, GRF is described as the first foundation focused solely on funding glass recycling initiatives. The 501(c)(3) nonprofit group was formed to raise funds and provide grants for projects that fill gaps in the U.S. glass recycling supply chain and increase the amount of cullet available for manufacturers.
GRF will work closely with the Glass Recycling Coalition (GRC), which was founded by the Glass Packaging Institute (GPI), Diageo and New Belgium and collaborated with more than a dozen founding member companies in 2016. GRC conducts research and provides best practices for glass recycling. For example, last year, the group published the results of a survey of more than 300 professionals involved in the recovered glass supply chain. It provided insight into how glass is currently handled in recycling programs across the country. GPI has also provided funding for localized glass recycling projects.
As a nonprofit foundation, GRF can receive donations from foundations of all types, government agencies, companies and individuals, Bragg noted. GRC will continue as a collaborative membership project providing technical and educational resources, tracking areas that need assistance and identifying corrective measures, she said. GRF will be able to help fund projects identified by GRC.
"Engagement of public sector partners in GRF funded projects will be a key factor in eligibility for funding," she said.
Projects identified by GRC that need funding include glass processing equipment at MRFs, glass aggregation sites in more rural areas and more drop-off locations to complement curbside collection.
Research has already been conducted into needed investments, including an in-depth 2017 report by Closed Loop Partners. Bragg said GRC and GRF know the funding need is large, with some estimates of needed investments in the tens of millions of dollars.
"We know that investments are made every year by both private and public agencies in strengthening our glass collection and processing infrastructure," she said. "GRF grants will be targeting areas that need help in leveraging this private and public investment through joint funding."
Photo credit: Sergey Novikov/Shutterstock
More stories about glass