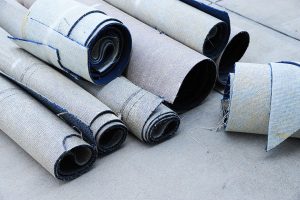 Regulators have given final approval to a carpet stewardship roadmap in California, marking a milestone in an ongoing, years-long dispute with the carpet industry.
The California Department of Resources Recycling and Recovery (CalRecycle) on Feb. 20 approved the California Carpet Stewardship Plan 2018-2022. The document was prepared and submitted by the stewardship group Carpet America Recovery Effort (CARE), which issued a press release hailing the plan's approval.
Often landfilled or burned, carpet contains a lot of plastic. The face fiber is frequently made of nylon, nylon 6,6, PET/PTT or PP. But efficiently collecting carpet and separating components can be a challenging business.
Under California's extended producer responsibility program for carpet, consumers pay a fee — currently 35 cents per square yard — when they buy new carpet. The millions of dollars that system generates each year is used by CARE to support carpet recycling, pursuant to a plan proposed by CARE and approved by CalRecycle.
Starting in 2013, CalRecycle began telling CARE it wasn't doing enough to be considered compliant with state law. Over the years, CalRecycle has cited a long list of issues, including that it believed CARE wasn't making continuous meaningful progress in the carpet recycling rate. Over the 2013-15 time frame, the recycling rate actually dropped, and in 2016 it was 11 percent, short of CARE's goal of 16 percent for that year.
In late 2016, the agency rejected a plan update submitted by CARE and began enforcement against the Georgia-based nonprofit group, claiming it hadn't been compliant with state law in 2013, 2014 or 2015. CalRecycle fined the group more than $3 million. CARE appealed the fine to a hearing examiner, and the final penalty was lowered to $821,000 in April 2018.
The legal battles continue, however. In August 2018, CalRecycle again issued an accusation against CARE, this time for $1.83 million, alleging it was out of compliance with state law in 2016 (a hearing was held on that fine in January 2019).
And in May 2018, CalRecycle rejected CARE's proposed 2018-22 plan. It was revised and resubmitted, and CalRecycle gave it a conditional approval in October 2018. The approval was conditioned on CARE amending the plan yet again to meet CalRecycle's requirements. In response, CARE submitted a "Chapter 0," which lays out everything it plans to do by Sept. 1, 2019. Among the requirements is hiring outside experts to evaluate the consumer fees and CARE's subsidies to carpet reclaimers. With submission of Chapter 0, CalRecycle approved the plan on Feb. 20.
Over the course of the back and forth between state officials and representatives for the carpet industry, lawmakers entered the fray. In 2017, the state legislature passed – and the governor signed – a bill imposing a carpet recycling target of 24 percent for 2020.
But the latest numbers show the recycling rate is still a long way from that goal. In 2017, it was 14 percent. As of the third quarter of 2018, it was 14.9 percent, down from 16.3 percent in the second quarter.
CARE's budget anticipates collecting and spending more money in future years. It expects to collect and spend roughly $31 million this year. Among expenses, subsidy payments will make up the largest slice of the pie, at over $18 million. The numbers are up substantially from last year. Although final 2018 numbers aren't yet available, CARE budgeted collecting nearly $23 million and spending more than $25 million last year.
Photo credit: ND700/Shutterstock
More stories about EPR/stewardship