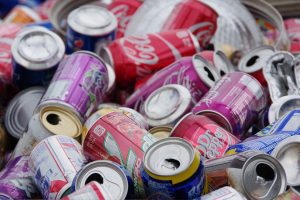 Used beverage cans, historically a reliable and valuable commodity, have seen recent price lows that are adding extra strife to already stressed residential recycling markets.
A year ago, UBCs, the most common scrap aluminum grade handled by MRFs, were trading for 74 to 76 cents per pound, truckload quantity picked up from a supplier. Now, they're selling for 20 cents less per pound, according to Monday's market report from the Institute of Scrap Recycling Industries (ISRI).
Today's price is the lowest it's been since July 2009.
"We've seen the challenges in fiber and plastics due to what's going on in China, but you've always had, except in the last several months, a strong demand for aluminum," said Bill Keegan, president of Dem-Con Companies, a Minneapolis-area MRF operator.
The current glut of aluminum supply and dearth of demand is a situation he hasn't seen before.
"It's a bit unique that we're seeing this softening of demand," Keegan said.
The MRF sector has been feeling the impact for several months, Keegan noted, and really started to see it in late fall. Although Dem-Con and other MRFs are still moving UBCs to market, the pricing decline holds particular significance for the municipal recycling sector as a whole.
"The aluminum really carried a lot of the load, if you will," Keegan said.
Factors converge
A handful of forces, including lower domestic demand among aluminum producers and growing supply, have played into the price decline.
For example, The Wall Street Journal reported China's imported recyclables quality standards and the U.S.-China tariff war has resulted in a glut of domestic scrap aluminum in the U.S., pushing prices downward.
Trade strife with Russia is also a factor, most notably U.S. sanctions against Russian aluminum supplier Rusal. After the sanctions were announced last April, U.S. companies were given a timeline to stop buying from the Russian aluminum giant. The sanctions were delayed throughout 2018, but the aluminum company has effectively been cut off from North American and European markets, creating turbulence in aluminum prices.
The U.S. Treasury Department recently proposed removing those sanctions, which would reopen Rusal's access to domestic markets. Such a move would likely lower U.S. aluminum prices further due to the re-entry of a foreign supplier.
Transportation bottlenecks and other logistical struggles are also playing into aluminum prices, according to ISRI. Moving into 2019, trade policy and domestic investment in aluminum production will be the big factors to watch.
Adding to the trade uncertainty, the Chinese government last month pledged to "restrict" scrap aluminum imports beginning this summer. Aluminum shipments are not proposed to be banned altogether but instead added to a list of materials that will see heavier scrutiny when coming into the country.
This may have a limited impact on MRF material movement because UBCs largely stay domestic. From January 2018 through October 2018, U.S. exporters sent fewer than 800 short tons of UBCs to China, compared with 466,000 short tons of non-UBC scrap aluminum.
Industry publication American Metal Market reported last week that "ample scrap availability" is outpacing demand, furthering the downward pricing trend.
Weathering the storm
Keegan of Dem-Con said the aluminum downturn has been less of a hit to the MRF sector than some other industry-wide troubles, such as constricted paper and plastics markets or rising freight prices. Aluminum typically makes up a lower percentage of inbound material than commodities such as mixed paper, which can be half the volume of the residential stream.
"At this point, [the aluminum price situation] is significantly less impactful, because it hasn't fully developed, I believe," Keegan said. But he added that if it comes to a point where scrap aluminum movement – not just pricing – is actually disrupted, the ramifications could be significant.
Will Sagar, executive director of the Southeast Recycling Development Council, added that aluminum "does have a high value but its effective change on the average commodity revenue [for MRFs] is small."
The price drop may be felt primarily by municipalities, he noted, because many contracts are structured in a way that shields the MRF when commodity prices decline.
But unlike other commodities, there's little in terms of sorting that MRFs can do to increase their ability to move or boost the value of the material. When mixed-paper markets collapsed in 2017, for example, MRF operators across the U.S. began slowing their lines, installing new equipment and adding workers, all to maximize the product quality in order to meet buyer specifications.
With UBCs, however, the industry's standard contamination threshold is already about 0.1 percent, Keegan noted.
"Aluminum, by and large, was already being processed to a fairly high quality due to the technology," he said.
Photo credit: Vladimir Martinov/Shutterstock
More stories about markets