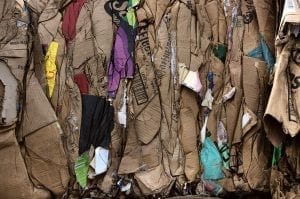 Recovered paper end users commented on some of the key trends in the recycled paper industry during their recent quarterly earnings calls.
The following are some major recycling takeaways from the earnings calls of Cascades, International Paper, Packaging Corporation of America, Sonoco and WestRock. Transcripts of each call were provided by Seeking Alpha.
OCC price outlook
Companies are forecasting OCC pricing will generally be flat in the near future, with a possible slight decrease moving into 2019. Despite the OCC cost decreases that have come about, some end users are still looking to minimize use of the material.
WestRock CEO Steve Voorhees commented that new capacity in the company's virgin fiber sector will "allow us to eliminate our use of higher cost OCC."
The current low pricing is a positive for the companies, but ongoing price fluctuations around the material cause challenges. For that reason, Packaging Corporation of America (PCA) is not jumping at the chance to bring in more OCC.
"We would anticipate longer-term that OCC continues to be volatile, and we would rather not be tied to that in any significant manner," said Mark Kowlzan, CEO of PCA. "But we would obviously remain flexible and opportunistic in how we're able to use it."
Containerboard demand growing
OCC might not be the most predictable commodity, but most analysts agree the products it goes into are only going to rise in demand. The containerboard market is going to need additional capacity, said Thomas Hassfurther, executive vice president of corrugated products at PCA, and China has a growing appetite for the material.
Nine Dragons' acquisition of multiple U.S. mills, as well as several other recent facility acquisitions, "demonstrates that in spades," Hassfurther said. Companies are talking about shipping recycled paper pulp back to China as a way to get around recent scrap material restrictions.
"It's expensive to do, but given the situation over there, they need fiber, and so that's all going over to China as we see it," he said.
Pulp export potential
International Paper fielded several questions about the possibility of mills producing recycled pulp for export. This practice has been negligible in the past, but it has gained steam due to the recent difficulties moving OCC and other recovered fiber into countries such as China.
Exporting recycled paper pulp would require a mill to produce, dry and export the pulp. Then, the buyer would have to re-wet it and turn it into paperboard. It requires two energy cycles where only one is required if the pulp is used in-house.
"Is it long-term sustainable? Maybe not, but you've got a burgeoning packaging market in a part of the world that's struggling to get fiber, so in order to survive and provide products for customers, you may do something that raises your costs for a while," explained Mark Sutton, CEO of International Paper.
The factors that determine whether it's economically viable are the available alternatives, he added. "Right now, there are limited alternatives for moving fiber without that extra step of cleaning, basically," he said.
Shifts in OCC quality shipped
Industry-wide, OCC exports are up: In the first three quarters of 2017, The U.S. shipped nearly 7.2 million short tons of OCC abroad. That weight grew to more than 8.9 million short tons during the same period this year, according to the latest U.S. Census Bureau data.
According to Sonoco, this increase could be a product of timing. Roger Schrum, vice president of investor relations for Sonoco, noted that the export influx is a result of "people trying to get the last tons that are available through their permits to go into the Chinese market and others."
Some executives noted that the type of OCC being exported has changed. WestRock has recycling operations that sell fiber it can't consume itself. In these recycling operations, the company is seeing high demand for its OCC No. 12 grade, which is a clean, high-grade material sourced from commercial establishments, as opposed to curbside OCC.
The high-grade material "remains, I'd say, stable to strong, and then the rest that's been more mixed office waste or lower-class OCC has not," said Jeffrey Chalovich, president of corrugated packaging at WestRock. This sentiment was also shared by DJ VanDeusen, vice president of recycling for WestRock, at the 2018 Resource Recycling Conference last month.
Sorted office paper prices rise
Some company officials noted a trend partially offsetting the feedstock savings from the OCC price drop. Sorted office paper, a higher-grade recycled material, has increased in price by 25 percent year-over-year. It's currently up 9 percent over the prior quarter. This is significant for Cascades because sorted office paper and similar grades make up a large portion of the raw materials the company uses in tissue manufacturing.
For companies that act as both end user and recycling facility operator, the OCC price fluctuation is a double-edged sword. Although a lower OCC price brings costs down in the feedstock supply sector, Cascades also saw a "lower contribution from our recovery and recycling activities following OCC price decreases," according to Allan Hogg, chief financial officer at Cascades.
Photo credit: Huguette Roe/Shutterstock

More stories about fiber