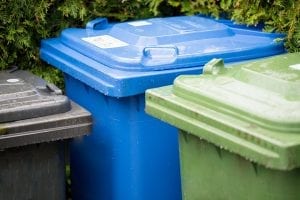 Waste Connections has provided a high-level look at its materials recovery division, detailing total tonnages over the past two years and outlining the percentages of different materials in the mix.
The publicly traded company is the third largest residential garbage and recyclables company in North America, after Waste Management and Republic Services. It recently issued a sustainability report covering 2016 and 2017.
Overall, Waste Connections generated 1.2 million tons of recovered commodities in 2016 and 1.5 million tons in 2017. Over those two years, the tons broke the following ways, by weight:
OCC: 28.8 percent
Mixed/other paper: 10.4 percent
ONP: 7 percent
Glass: 5.4 percent
Metal: 2.6 percent
Plastics: 2.6 percent
Aluminum: 0.2 percent
Commingled/other: 42.9 percent
Waste Connections operated 71 recycling facilities in 2016 and 66 in 2017, according to the sustainability report.
In 2016, the company landfilled 18.9 million tons of MSW. In 2017, it landfilled 24.3 million tons of MSW. Those numbers do not include special waste and construction and demolition debris disposal.
Photo credit: Samuel Cohen/Shutterstock
More stories about data