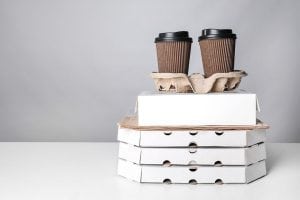 A major U.S. recycled paper end user will begin accepting fiber bales that contain foodservice packaging at its mills across the country.
WestRock announced that eight recycled paperboard mills in the U.S. will take in mixed paper bales that include single-use fiber cups, takeout cartons, pizza boxes and similar materials.  These products are rarely accepted in recycling programs, usually because of the contamination associated with foodservice packaging.
In a Sept. 27 press release, WestRock said technological evolutions in paper mill pulping and cleaning systems have allowed the company's mills to handle foodservice packaging and extract value from it.
Foodservice packaging provides high-quality fiber, WestRock noted in the release, and "can add value to residential mixed paper by improving fiber strength and yield."
WestRock averages more than 90 percent yield from recycled foodservice packaging materials, the company wrote, compared with about 65 percent yield from residential mixed paper.
"In order for communities to accept foodservice packaging into their residential recycling programs, they need a place to send it," DJ VanDeusen, senior vice president of WestRock's recycling business, noted in the release. "WestRock can now take this packaging and turn it into new, usable products."
WestRock will accept the bales at its recycled paperboard mills in Aurora, Ill.; Battle Creek, Mich.; Chattanooga, Tenn.; Dallas; Eaton, Ind.; Missisquoi, Vt.; Saint Paul, Minn.; and Stroudsburg, Pa.
The Foodservice Packaging Institute (FPI), which has worked to expand the list of materials accepted in residential recycling programs, praised WestRock for its move. FPI President Lynn Dyer said the company is "leading the way in demonstrating the recyclability of foodservice packaging and that it provides a valuable source of fiber to paper mills."
WestRock began processing bales that included foodservice packaging, including poly-coated products, at its recycled paperboard mill in Saint Paul, Minn. on a trial basis last year. At the same time, WestRock's MRFs in Chattanooga, Tenn. and Louisville, Ky. started accepting foodservice packaging from the residential recycling programs they serve.
"In both trial situations, there was no disruption to the company's operations from the addition of poly-coated food-service packaging," the company wrote.
Resource Recycling covered WestRock's pilot project, and other foodservice packaging recovery initiatives, in a feature story this year.
Georgia-Pacific, another major fiber end-user, is working on a similar project: The company conducted trial research and plans to install equipment at one of its mills to recover fiber from food-soiled packaging.
Photo credit: Pixel-Shot/Shutterstock

More stories about fiber