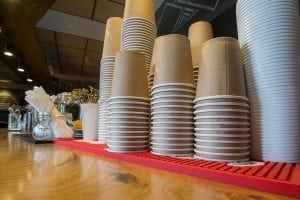 A Denver-area hauler and MRF operator will begin accepting coffee cups in the recycling stream from its commercial coffee shop customers.
Alpine Waste & Recycling last week announced it has begun accepting single-use coffee cups, which are typically made of fiber with a polycoat moisture barrier, from the coffee shops it services for commercial collection. The cups will be sent to the Sustana paper mill in De Pere, Wis.
"Until now, the complex material of the standard coffee cup made the cups difficult if not impossible to recycle in an economically feasible manner," Alpine said in a press release.
Alpine was the first MRF to test and install a robotic sortation system developed by AMP Robotics. That system will be "instrumental" in the coffee cup recycling effort, according to the release.
The Alpine effort was developed with help from the Foodservice Packaging Institute (FPI).
Alpine estimates it could collect as many as 5 tons of coffee cups per month in the early stages of the program, "depending in large part upon consumer awareness and willingness to participate."
Coffee cup recycling is relatively rare in U.S. recycling programs, but it has increased in recent years. Washington, D.C. this year began accepting coffee cups in its residential curbside recycling program, joining San Francisco, Seattle and a handful of smaller programs around the country. The D.C. initiative also received assistance from FPI.
The Sustana mill in De Pere produces de-inked pulp from a variety of post-consumer paper products, including plastic-lined ones that are more difficult to process, such as coffee cups, cartons and adhesive release liners. The mill was featured prominently in an March 2018 article in Resource Recycling magazine.
Photo credit: Andy Shell/Shutterstock
More stories about challenging materials