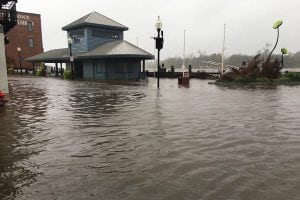 Hurricane Florence has forced programs to suspend collection and led haulers to remind residential customers about proper storm debris management. At least one packaging giant has been significantly impacted by the hurricane.
The storm, which made landfall on the coast of North Carolina on Sept. 14, killed 25 people as of Monday and caused rampant flooding throughout the eastern parts of North and South Carolina.
Mary McClellan, executive director of the Carolina Recycling Association, explained that communities are suspending regular services in order to clear roads, provide rescue services and life-saving supplies, and perform other emergency services.
"It is an enormous mess, and I think many communities won't return to normal activity for weeks, if not longer," McClellan said.
The conditions are bad in the eastern third of North Carolina and the northeastern portion of South Carolina, she noted, and they are anticipated to worsen as rivers rise to historic levels.
"Some coastal areas are not accessible currently, basically cut off," McClellan said.
Some of the hurricane's impacts on the recycling sector have begun to emerge, although the full scope of damage will be unknown until the storm clears. The following are some preliminary recycling-related effects of Hurricane Florence:
Industry associations monitor impact: David Biderman, CEO of the Solid Waste Association of North America (SWANA), noted that collection was suspended in many communities in South and North Carolina late last week. As of Monday, service had not yet resumed in some of those communities, according to numerous local news articles.
Collection has been delayed in other locations. The city of Raleigh, for example, picked up its Friday routes on Monday.
"Due to flooding and storm damage, it may be difficult for employees at haulers and local government employees to get to their trucks, as is often true after major storms, which may further delay resumption of service," Biderman said. "In addition, there will be a substantial amount of storm debris to collect in the coming weeks and months in the Carolinas."
The Institute of Scrap Recycling Industries (ISRI) issued a statement offering help and support to those impacted by the hurricane. ISRI partnered with the American Red Cross to create a dedicated donations page.
"It is often said that ISRI is more than an organization – it is a family," ISRI President Robin Wiener wrote in an email to members. "And families help each other out in times of need."
Packaging giant feels the effects: Packaging and industrial products manufacturer Sonoco is headquartered in Hartsville, S.C. and has production facilities across North and South Carolina. The company also runs MRFs and provides curbside collection in some areas. The hurricane "significantly impacted" the company's manufacturing operations and corporate headquarters in Hartsville, Sonoco said in a release, as well as several production facilities in North Carolina.
"We know that many of our employees and their loved ones are facing challenges and hardships after Hurricane Florence," Sonoco President and CEO Rob Tiede said in the release. "The Carolinas have faced several historic weather events in recent years, and each time we come back stronger than ever. Sonoco is committed to being a part of this rebuilding process in our hometown, in the communities we serve, and wherever our employees call home."
Sonoco, which employs nearly 3,000 people in North and South Carolina, has donated $50,000 to the American Red Cross for the hurricane relief effort.
Damage differs from Harvey: Unlike Hurricane Harvey a year ago, analysts predict Florence will not have a major impact on oil production, meaning less fluctuation in fuel prices. During Harvey, fuel prices shot up significantly after storm damage caused a number fuel producers to take downtime.
"Gas prices have not seen much movement because unlike the Gulf Coast, which is home to dozens of refineries, the Carolinas house only pipelines and terminals," AAA wrote this week. "This means U.S. crude processing is not impacted and therefore neither are gas prices nationally."
There will also be less impact on the virgin plastics market and, therefore, less fluctuation in recycled plastic prices. During Harvey, numerous plastics production plants closed down until the storm had passed. That downtime increased prices for multiple virgin resins.
In the scrap material processing sector, several facilities closed in advance of the storm. Steel company Nucor suspended operations at its Berkeley, S.C. and Hertford, N.C. facilities, according to market research firm Argus Media.
Storm debris to increase scrap supply: As is the norm following hurricanes, the rebuilding period will mean more construction material demand in the region. But the storm debris is also anticipated to increase supply of scrap materials, which are recovered out of the wreckage, according to market research firm IHS Markit. Steel recovered from the storm debris in particular will lead to more scrap metal supply.
"Metal from the hurricane is likely to boost U.S scrap exports, which have recovered in the last few years after dropping steeply earlier this decade," the firm wrote in an analysis piece.
Debris management: Several haulers reminded customers that storm debris should not be placed in recycling bins.
Waste Management noted that "Recycle containers should be used for recyclables only and NOT storm debris," and that "Storm debris including tree limbs and vegetation, roof tiles, carpet and fencing should be placed curbside in a separate pile."
Republic Services also offered a guide on storm debris disposal and issued a press release with tips on how to properly secure waste and recycling containers before the storm hit.
Recycling industry stakeholders have placed greater emphasis on storm debris cleanup in recent years.
After Hurricane Harvey in August 2017, the National Recycling Coalition established a task force to discuss storm-related waste management issues. The task force called for local government officials to ensure environmentally responsible disposal of debris left in the wake of the hurricane.
Photo credit: MicheleMidnight/Shutterstock

More stories about collection