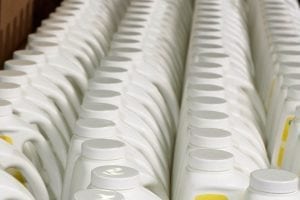 Researchers have calculated substantial upsides from making products out of recycled PET, HDPE and PP instead of prime plastics.
For example, using RPET may generate half the greenhouse gas emissions (GHG) of virgin plastic, according to preliminary data released by Franklin Associates. The reductions may be even greater for recycled polyolefins.
Franklin Associates is conducting the research on behalf of the Association of Plastic Recyclers (APR). APR's president, Steve Alexander, noted that brand owners will be able to reference the data to calculate progress toward their sustainability goals when they use recycled plastic. He called the life cycle inventory research "a critical tool to utilize and market the value of recycled materials."
"We need this information today more than ever if we want to continue to grow and develop the market for recycled plastics," he said.
Sneak peek at the numbers
APR on Aug. 21 held a webinar to unveil preliminary results from the research. Initiated about 18 months ago, the project involves updating and expanding on PET and HDPE research Franklin Associates released in 2010. For the 2018 update, Franklin Associates, a division of Eastern Research Group, also looked at recycled PP for the first time.
The research investigated GHG emissions from "cradle to gate," including collection, transportation, sorting and processing into flake or pellet. Franklin Associates didn't attempt to study impacts associated with manufacturing finished products because of the wide variety of products made from plastics and their varying environmental impacts.
Bev Sauer, senior project manager and life cycle analyst at Franklin Associates, presented during the webinar. She released preliminary findings, noting they're still subject to change after Franklin Associates receives additional information from plastics reclaimers.
She estimated that if a food and drink packaging manufacturer ditches virgin plastic in favor of "solid-stated" RPET pellet, it would cut GHG emissions by about half (solid-stated means the plastic has been decontaminated for food contact and its intrinsic viscosity boosted). "And for HDPE and PP, it's looking like the savings are even greater, in the range of 65 to 70 percent," Sauer said.
The most important part of the analysis was collecting data from plastics reclaimers, Sauer said. Her company gathered detailed information from seven PET reclaimers, five HDPE reclaimers and three PP reclaimers.
The work found that the majority of greenhouse gases generated within the recycling chain come via the reclaimers. For food-contact PET, nearly 90 percent of their gases were associated with reclaimer operations. For HDPE and PP pellet, 70 to 75 percent were generated by the processing steps. PET was higher because of the additional environmental impacts from the decontamination steps, she said.
Where project goes from here
Sauer said her research team is still gathering follow-up information from reclaimers that could shift the numbers. After finalizing the recycled plastic numbers, the recycled flake and pellet numbers will be compared with those for virgin plastics.
For the 2018 report, Franklin Associates added new categories. The 2010 document covered energy usage, solid waste generation, water consumption, GHG emissions, and other atmospheric and waterborne emissions. The 2018 report will go deeper into how air and water emissions affect acidification, eutrophication (excess nutrients in water that can lead to oxygen depletion), smog and ozone depletion, according to Sauer's presentation.
After completion, the data will be uploaded to the U.S. Department of Energy's Life Cycle Inventory Database, she said. It will be presented on the "unit process level" so that anyone can adapt the numbers to their particular circumstances to generate more accurate results, she said.
For example, Franklin Associates developed weighted average data sets for each resin based on the amount of material collected at the curb, drop-offs or through container deposit redemption systems. But if a reclaimer that uses only curbside-collected feedstock wanted a number more specific to the company, it could use information from the project to make that assessment.
Sauer also noted her firm is conducting an update to a study of environmental impacts of virgin plastic on behalf of the American Chemistry Council (ACC). That report is expected to be completed near the end of the year.
Kara Pochiro, APR's communications director, said APR members will get an early look at the recycled PET, HDPE and PP report before it's released to the public this fall. The data will also be available at the group's Oct. 9-11 meeting in St. Petersburg, Fla.
Photo credit: B Brown/Shutterstock
More stories about industry groups